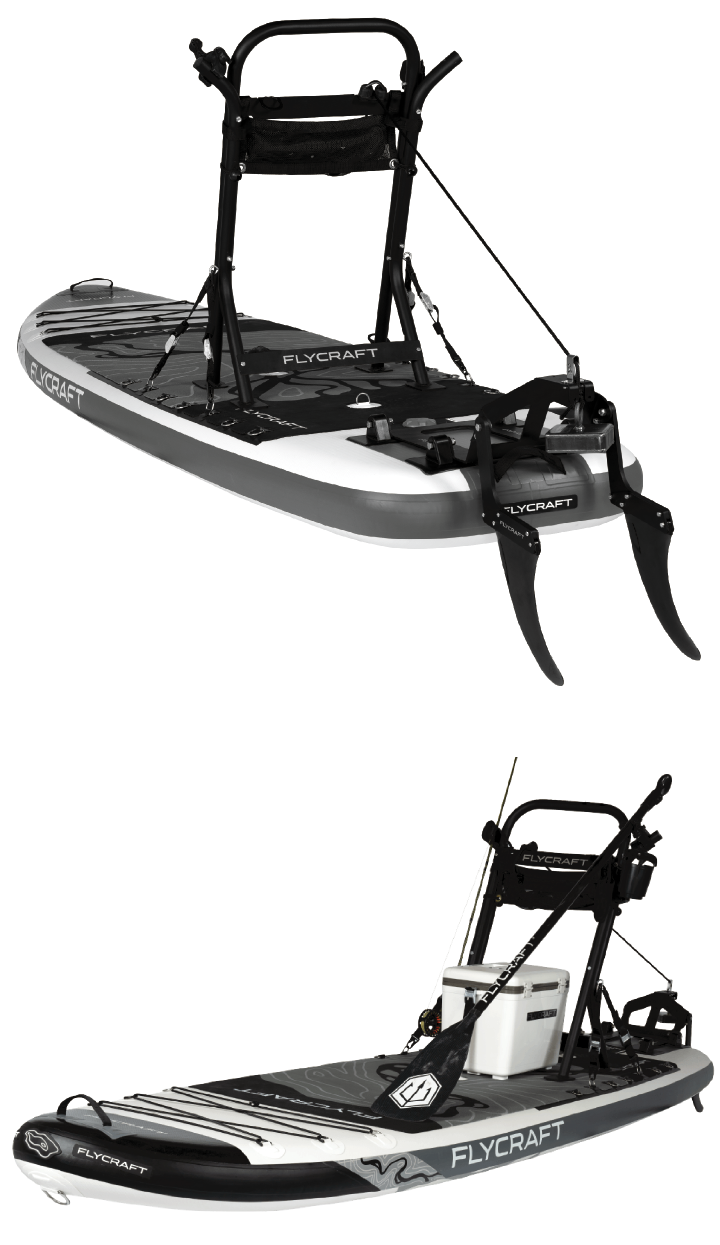 The Flycraft Mountain Inflatable Fishing Stand Up Paddle Board:
The ultra-light, ultra-stable Stand Up Paddle Board (SUP) designed to get you into those perfect fishing spots on your favorite rivers, streams, creeks and lakes. Add in our revolutionary new accessories to expand your fishing opportunities.

How The Flycraft SUP Helps You Catch More Fish:


The Innovative Gravity Fins pop up when it hits rocks, grass, mud or any obstacle, giving you extreme shallow water capabilities, while still maintaining control of your board. The Gravity Fin also hosts the key pulley, enabling the anchor system to operate.
The SUP's Anchor System eliminates the biggest pain in paddle board fishing, wind or water drift. Now you can concentrate on your fishing without being swept away by wind or current.
The Tower gives you the ability to quickly switch from rod to paddle, or vice versa. The anchor system is seamlessly controlled from the Tower, which is also a great place to mount additional accessories.
Our super stable, extra rigid, dropped stitched Flycraft Aircore PVC gives you a solid platform that's strong yet lightweight. Get the rigidity you need to fish streams, lakes, and rivers...plus the platform is perfect for yoga!
Transporting your SUP is quick & easy, only weighing 25 lbs.
Track straighter, easier with an upgraded future's fin with more surface area than most SUP's generic black fin.
Get only the highest end components,including an upgraded Leifield C7 valve that's more durable than cheaper valves used in most SUPs.
A removable handle gets out of your way when fishing, giving you a flat yoga board. How is nobody done this yet?
Comfort and stability: A full size pad gives you plenty of room for landing a monster (or tricking your partner into buying a "yoga board" ;).
Less line snags with our IDT (Inlaid D-Ring technology). With a raised mat around the d-rings, you'll be tangle-free.
Attach all your essentials for a multi-day or afternoon adventure with 23 d-rings in strategic areas.
STEP 1: COMPARE THE MOUNTAIN SUP PACKAGES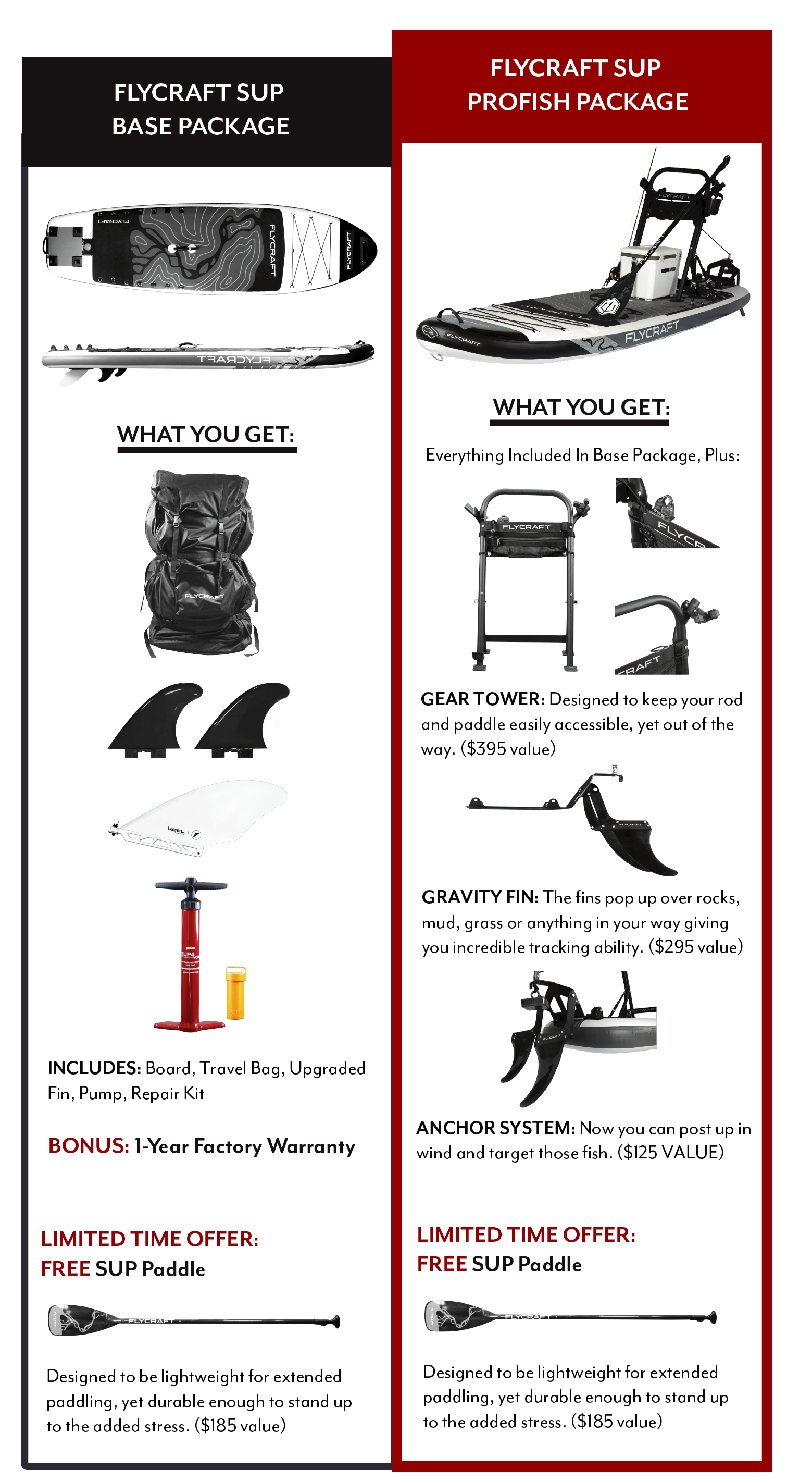 STEP 2: CHOOSE YOUR SUP PACKAGE
SUP ORDERS SHIP IN 72 HOURS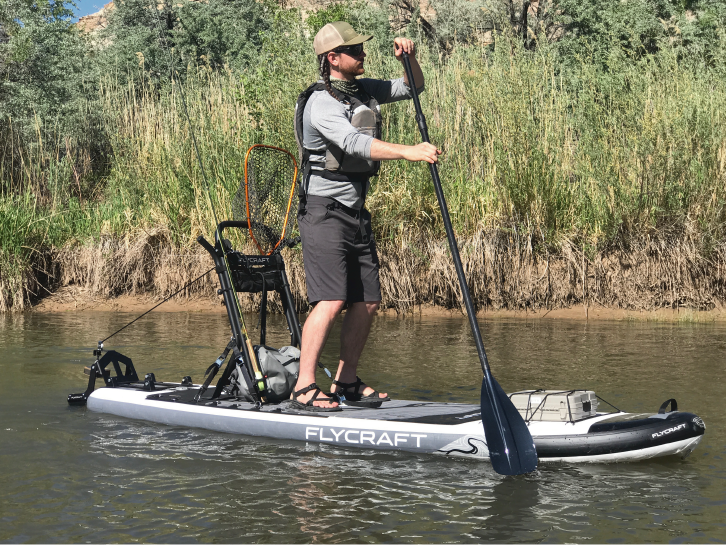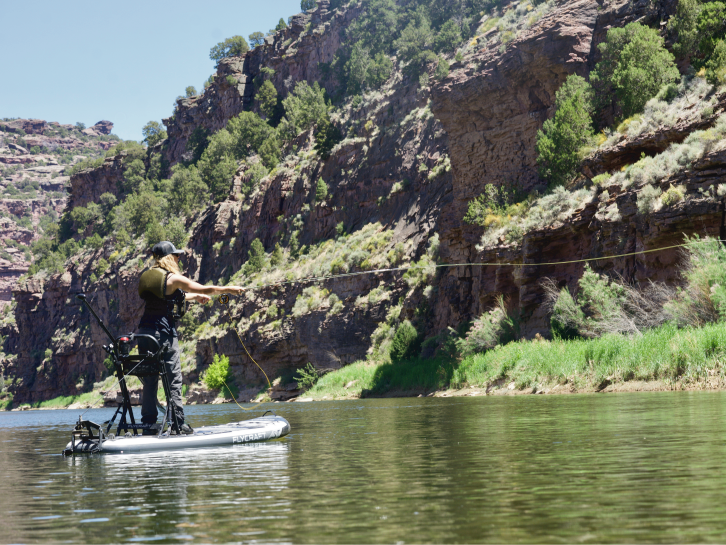 QUESTIONS?
(801) 810-4022

SPECIFICATIONS AT A GLANCE:
THICKNESS: 6"
LENGTH: 10' 2"
WIDTH: 33.5"
WEIGHT: 25 lbs
MAX CAPACITY: 275 lbs
D-RINGS: 23
HANDLES: 3
WARRANTY: 1-Year Factory Warranty
SHIPPING TIME: Guaranteed to ship in 1-2 business days
GET THE FULL TOUR...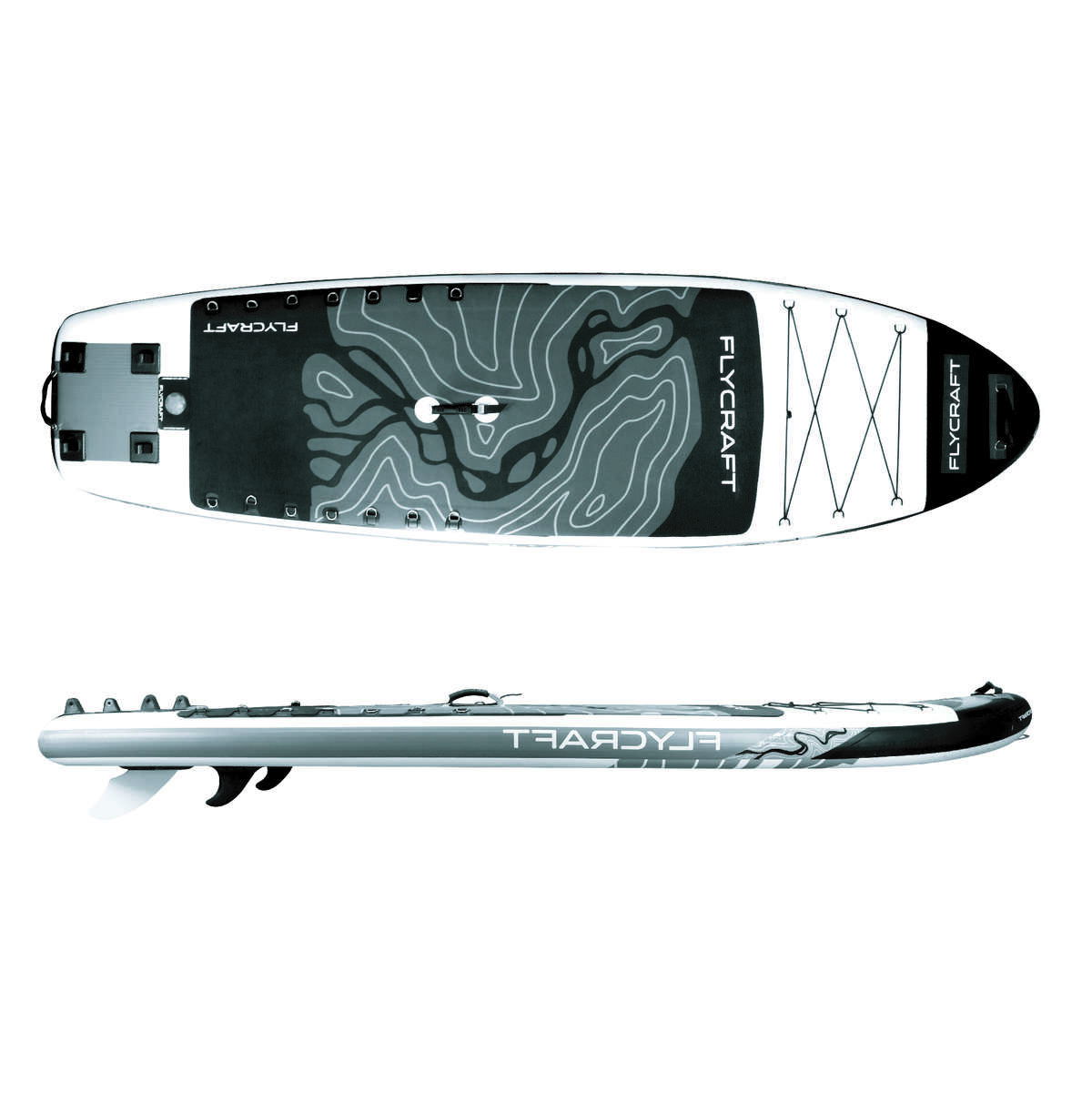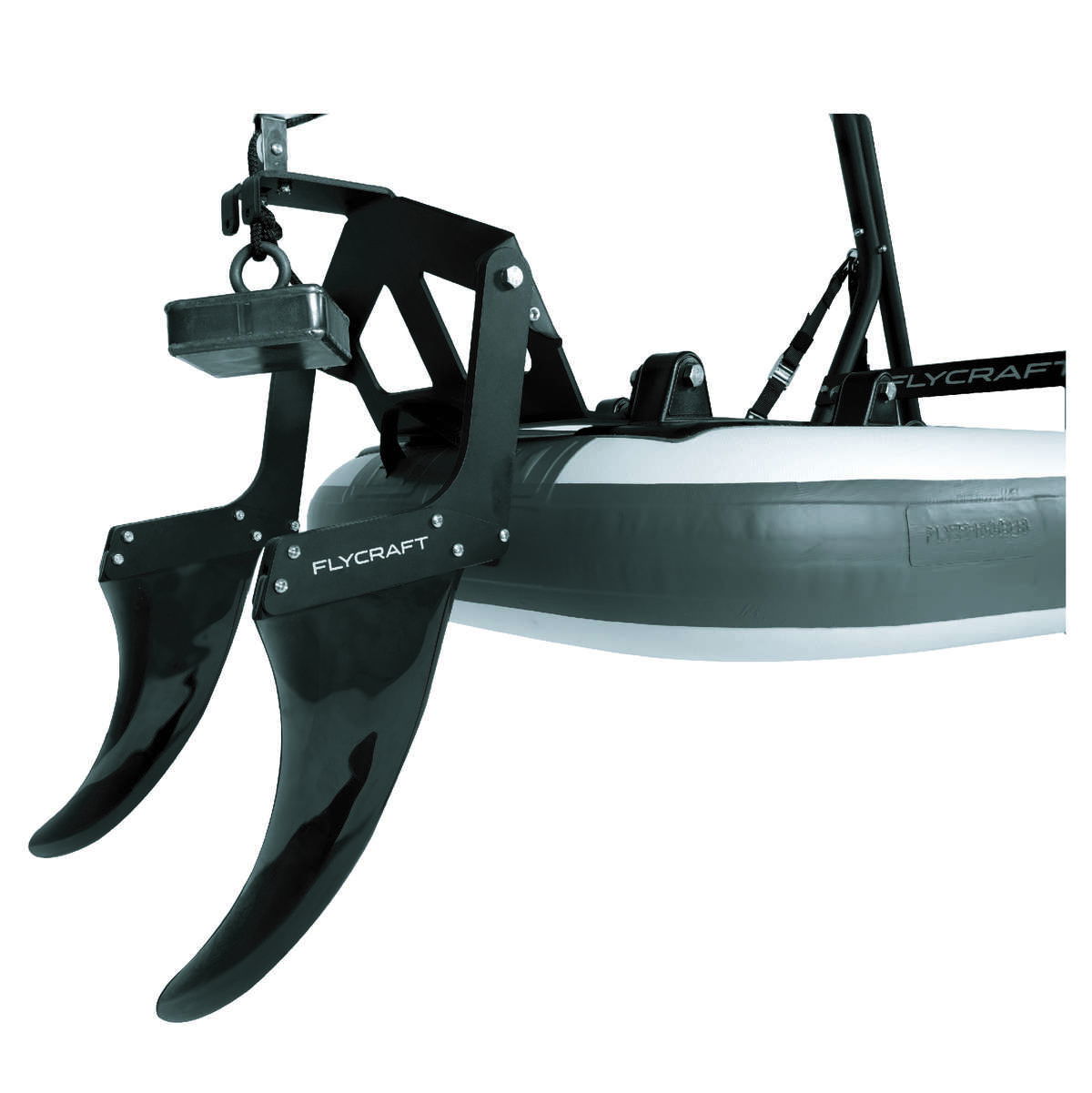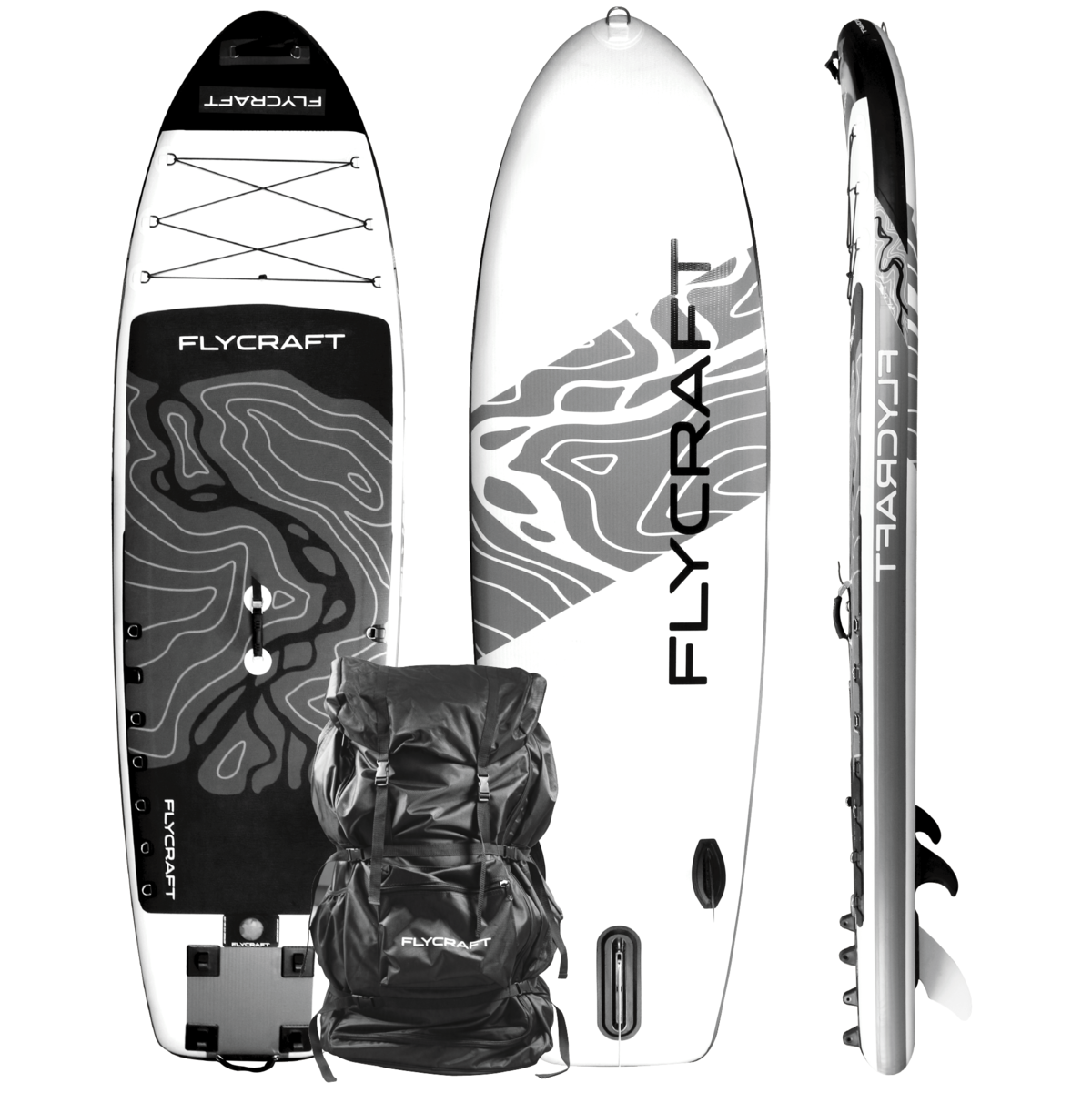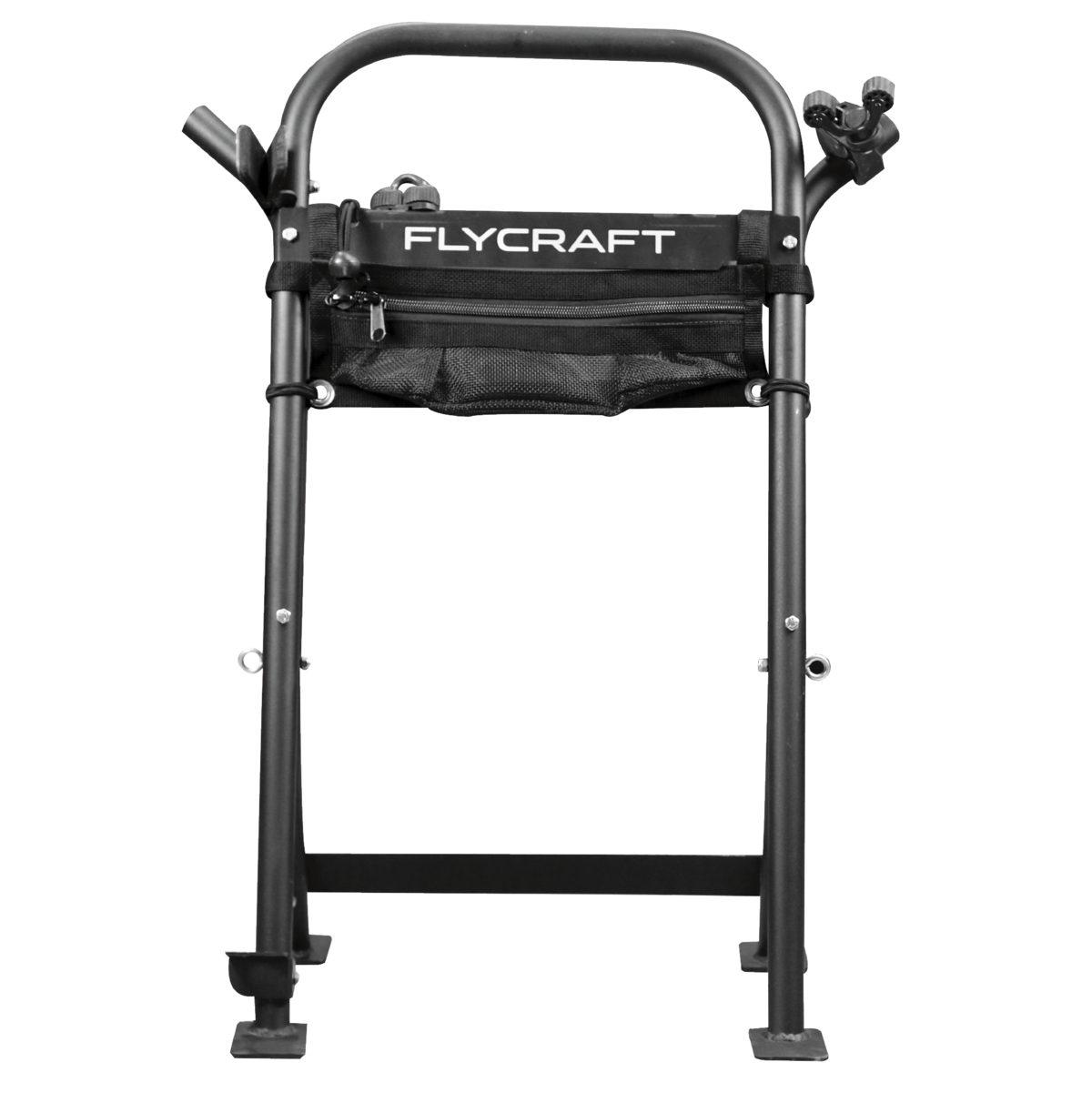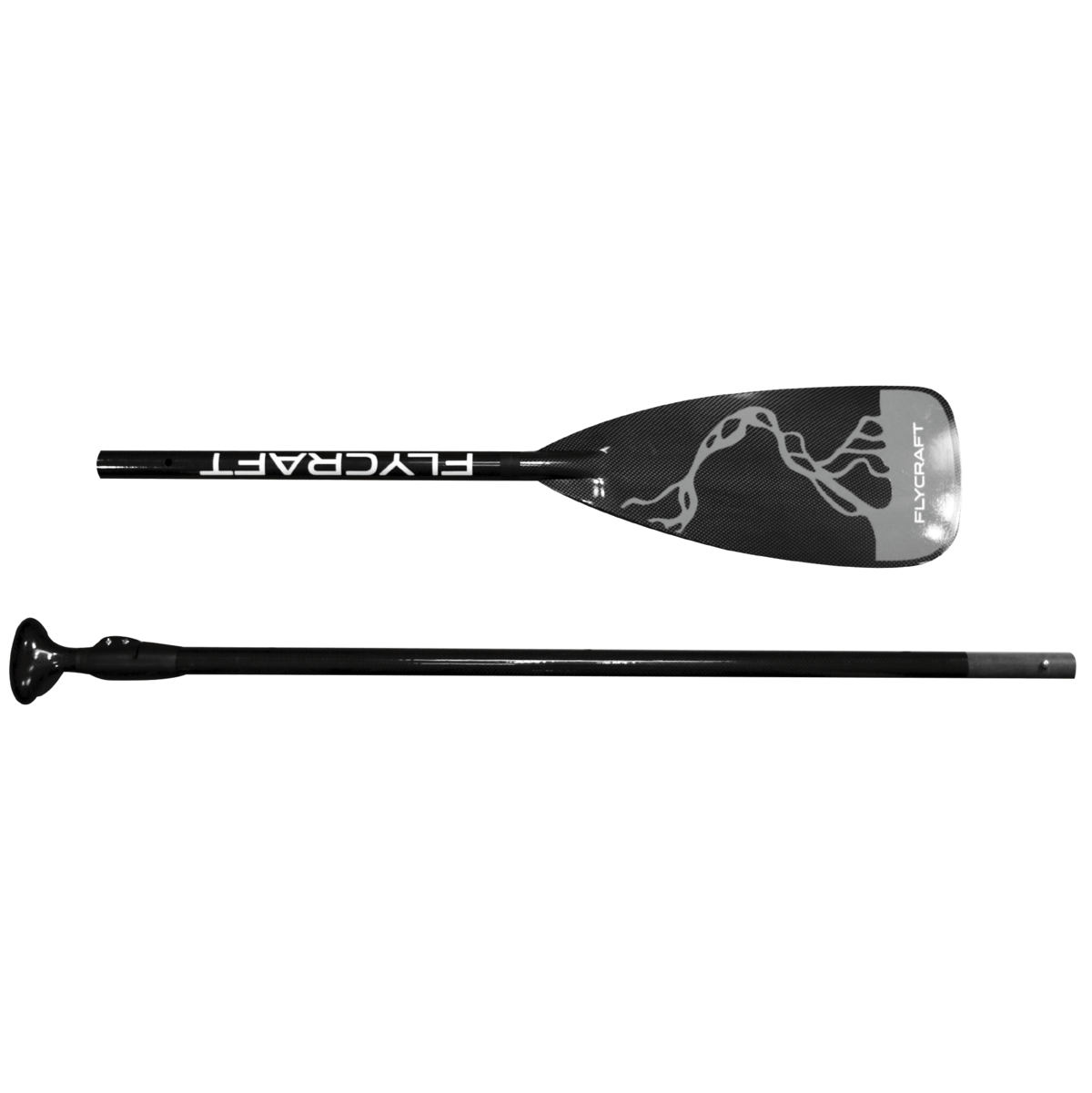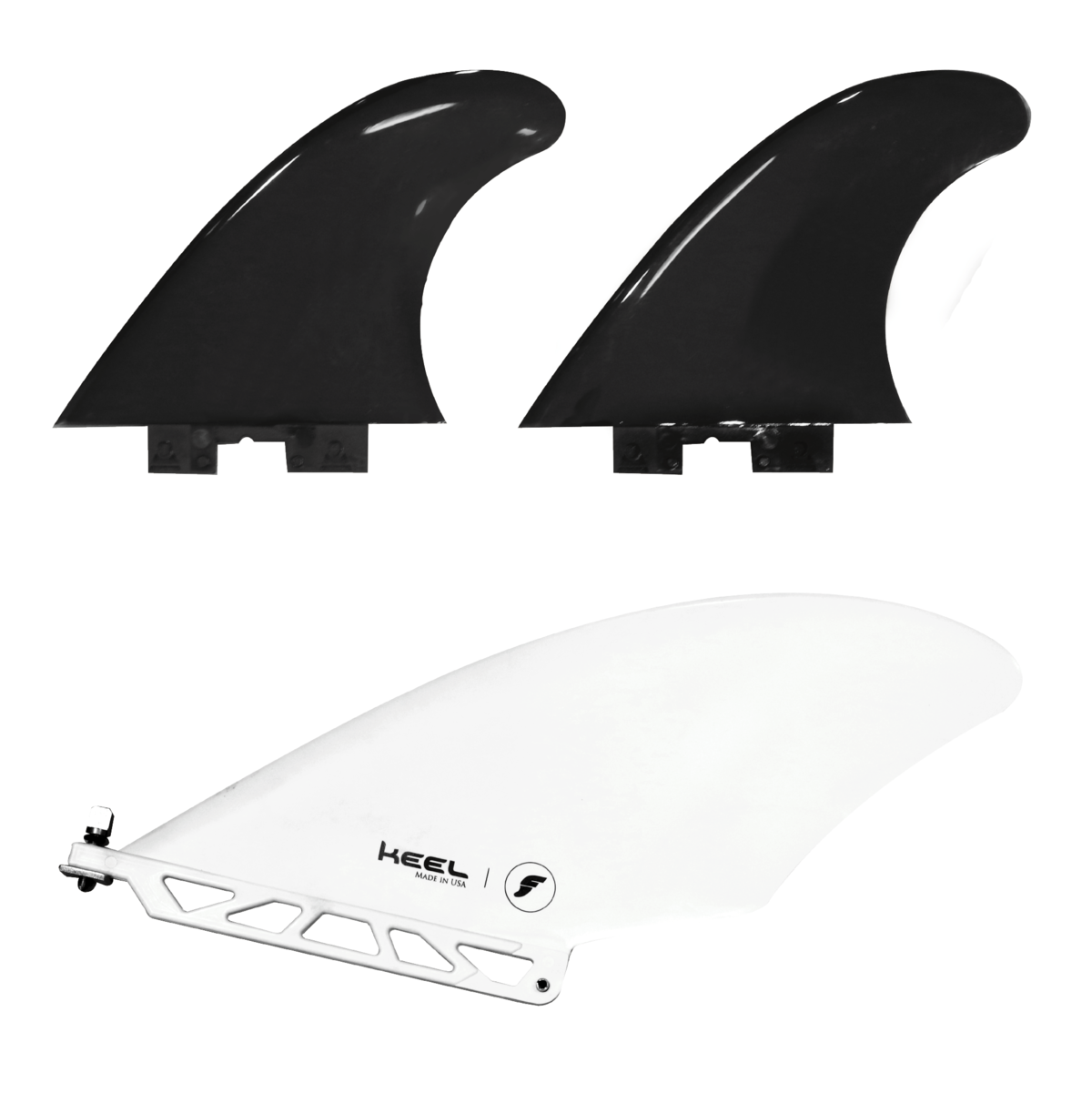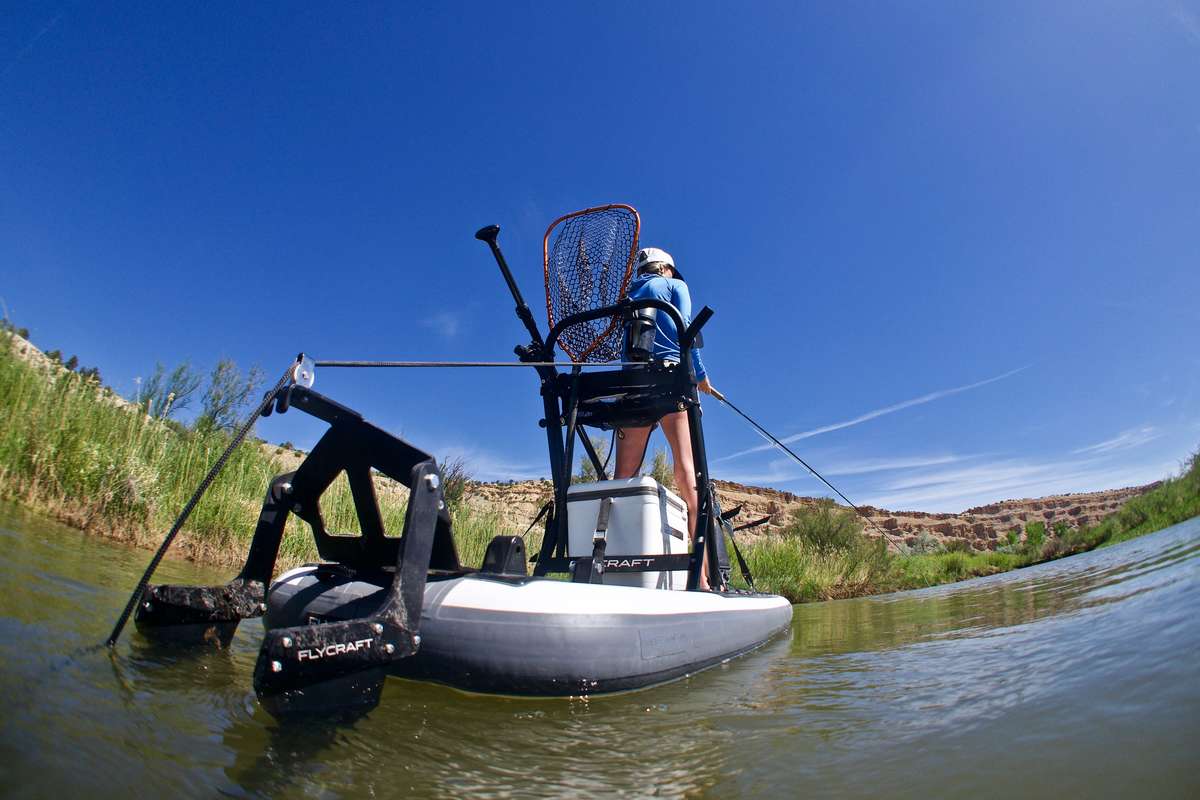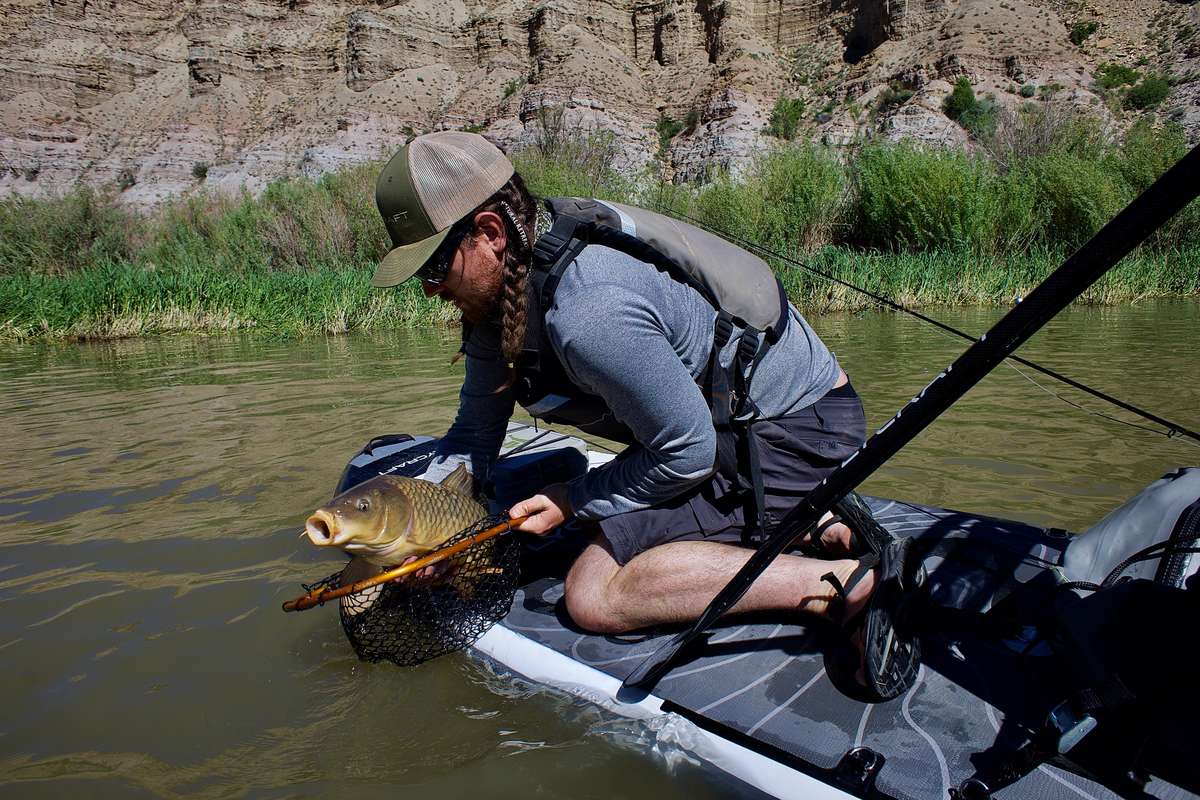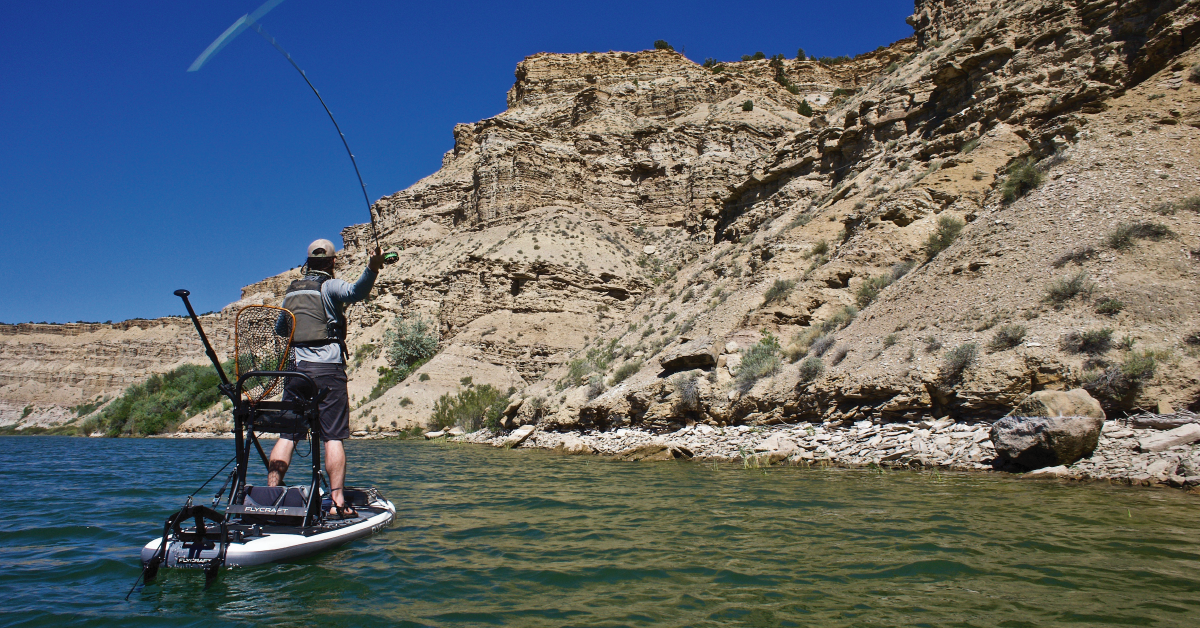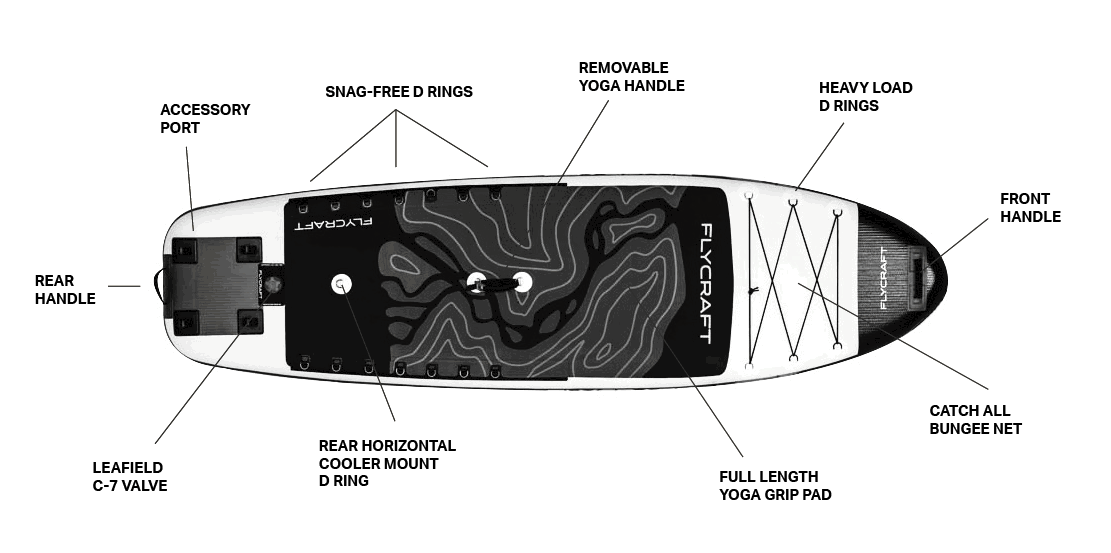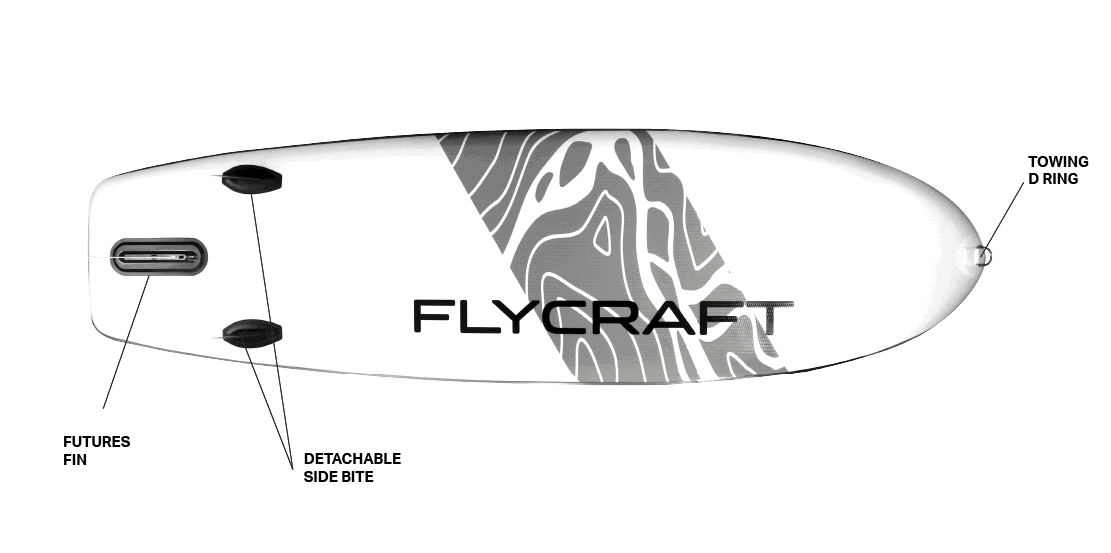 SUP ORDERS SHIP WITHIN 72 HOURS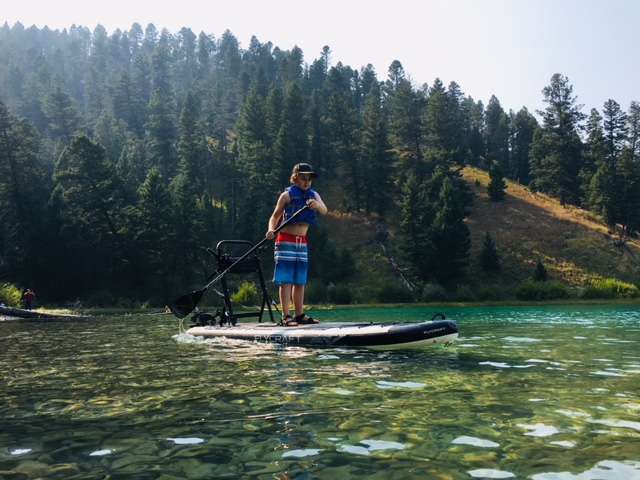 "First off, my wife and I have owned and used SUPs for exploring the outdoors for many years.

We purchased the Flycraft SUPs because of their space saving portability. We like that they stow in a small place in our RV when we are not using them and are easily inflated in minutes when we are ready to go paddling.

After several months of ownership we have used them on large lakes, rivers, and small streams in the Northwestern USA where we live. The boards handle well in all conditions and are extremely stable and easy to ride in choppy/windy conditions. Our dogs ride on the boards every time we paddle and seem to really like the comfortable top surface, which has excellent traction under foot.

We like our Flycraft SUPs and think they perform on par with our Surfec hard boards. We like that they are compact, stable, durable, lightweight, tough, versatile and generally badass looking."

"Scouts Out" – Bill Hager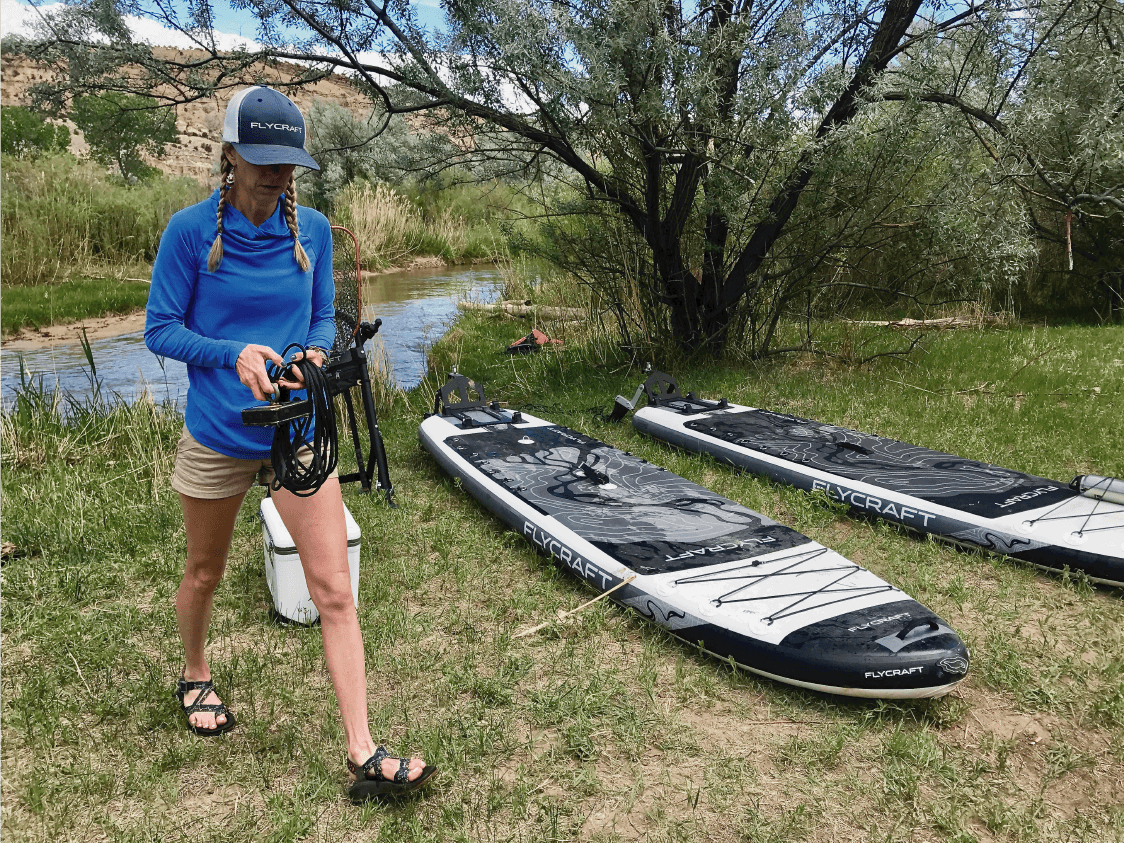 "The Flycraft SUP is one of the most well thought fishing platforms I have been on in a long time. The board is easy to set up, light and very stable. The Gravity fins let you get into tight spots without slowing you down and the tower/anchor system are a game changer. Being able to precisely lay down the anchor is crucial for proper set up, cleat and pulley work like a charm. Finally, having the rod, net and paddle holders on the tower keep everything close by is extremely handy. Well done Flycraft!"
Shahab Farzanegan
Q: What is the Flycraft SUP board made of?


A: The Flycraft SUP is make out of drop stitched pvc. Thousands of layers of threads are woven in between two layers of pvc, creating a material that can handle extreme pressure.


Q: How small will the board roll up?


A: It comes rolled in at a 37x17x5 bundle and can be rolled up into different dimensions depending on the configuration.


Q: Is it stable?


A: Yes, this board is very stable in a vareity of conditions on lakes, rivers and streams. It's width of 33.5" gives it great stability for fishing and yoga.


Q: What's the maximum weight?


A: 275 lbs. for optimal performance.


Q: How do you pump it up?


A: A hand pump is included. We also recommend getting on auto pump.


Q: Is it good for rivers?


A: Yes. It has many features that make it a blast on rivers.


Q: How does it track?


A: The board tracks great. The gravity fin enhances the tracking even more.


Q: Can I take a kid or dog with me?


A: Yes, in fact you can take a couple.


Q: What's the warranty?


A: Included with your SUP is a 1-year manufacturer defect warranty.


Q: Will my paddle float?


A: It will float for about 5 minutes.

Q: Can I anchor in current?


A: Anchoring in current is not recommended. The anchor is intended for use on still water such as lakes and ponds.
SUP ORDERS SHIP WITHIN 72 HOURS