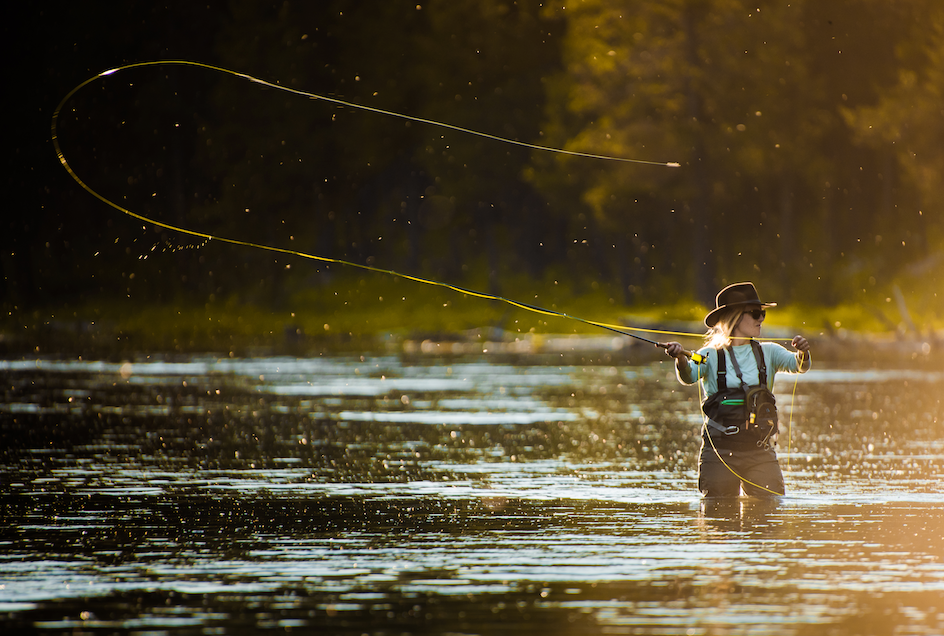 Few things can compare to slowly drifting down scenic waters on a quiet morning and watching your fly float through the air and dance above the water. While you may have your favorite spots at home, it's always refreshing to get out and explore new rivers. Across the United States, there are some truly amazing destinations to visit and fish.
Some of the best fly fishing and camping areas in the world are located right here in the continental United States. Quiet streams, winding rivers, and so much more are just waiting for you to discover. 
To help you get started planning your next fly fishing trip, here are some of the most unique US campsites.
South Platte River, Colorado
With nearly 3000 fish per mile and many around 18-20 inches long, the South Platte tributary has some of the most unique campsites in the continental US and is a great fishing spot. Any fly fishing trip to Colorado needs to include a few days on this river. 
Try to stay clear of the Cheesman Canyon, though; this is one of the busiest tourist spots, and the fish are less likely to bite. A great alternative is to spend time outside the canyon. There you'll find a 15-mile stretch that eventually connects to the South Platte River. You'll also have access to nearby rivers like Deckers, the Dream Stream, and the Colorado River so you can fly fish in different spots. 
If you're looking to catch a trophy fish like brown and rainbow trout during your visit, you can catch big fish walking and wading, but floating can get you away from the crowds. This area gets busier during the summer, but if you visit in late fall or over the winter, you'll be able to have a great time exploring and have the river mostly to yourself.
When visiting this area, you'll need to camp at one of the designated campsites located between Cheesman Canyon and Pine Creek Road. Unfortunately, primitive camping is not allowed, but there are still plenty of great sites to stay and relax when you aren't out on the river.
Tanasee Creek, North Carolina
Situated within the scenic Nantahala forest, Tanasee creek is a hidden gem and one of the most unique campsites in the United States. 
This area is one of 15 fly fishing spots you can access along the western North Carolina fly fishing trail. A good chunk of the shoreline is nestled within the Nantahala forest, and there are several areas of backcountry camping available via lake and river access. 
One of the nice things about this area is that most of it is too small for motorboats. Bringing a versatile, inflatable drift boat is the perfect way for you to navigate the narrow and shallow sections of the creek.
South Fork in the Snake River, Idaho
Nothing tops the iconic location of the South Fork in the Snake River. Flowing northwest from Palisades Dam in Swan Valley, this stretch covers 66 miles of beautiful river run in southeastern Idaho. While looking for blue ribbon trout, you'll cruise through high mountain valleys, broad floodplains, and rugged canyons. The first nine mile stretch flows through a narrow channel, and then you open up to several island complexes. 
Be sure to check out the waterfall, which can be seen upstream from the Swan Valley Bridge. And you won't miss the impressive canyon scenery that leads you all the way to the cliffs near Heise Hot Springs.
One of the biggest reasons why we love this spot is the amount of BLM land on either side of the river. This is a great location for multi-day float trips as you can easily camp along the float. This trip can make for incredible sightseeing. You can come across mink, fox, beaver, river otter, coyotes, bobcats, moose, deer, elk, mountain goats, mountain lions, and black bears. Plan accordingly when you camp overnight.
On top of that, Swan Valley is close by to Grand Teton National Park, three hours from Yellowstone State Park, and plenty of national wildlife refuges and state parks close by. This is a recreation dream-spot! 
Yellowstone River, Montana
Novice anglers be warned, the Yellowstone River in Montana is not to be taken lightly. This challenging river has a strong current and a massive amount of water to drift along and fish. 
The most popular fish you'll find in this area are cutthroat trout, rainbow trout, and brown trout. When it comes to tent camping, you can reserve a site, claim one of the first-come, first-served sites, or portage your boat to a backcountry campsite. Fortunately, you can pack and bring a durable yet inflatable boat in your carry on luggage, so it's easy to bring it with you. 
If it's your first time visiting the Yellowstone River, you may want to consider hiring a guide. Some of the best areas to fish include anywhere in Paradise Valley or anywhere between Gardiner and Livingston. Both spots are always loaded and perfect for trout fishing.
Bighorn River, Wyoming
Flowing between Montana and Wyoming, the Bighorn River is a popular destination for fly fishing. While most people stick to the more popular portion in Montana, the section near Hot Springs State Park in Wyoming is a hidden gem. This area is rarely fished but filled with quite a few trout for you to catch. 
The river can be waded or floated in, but the real success comes on a boat. This is a great area to bring your inflatable boat as there are plenty of spots to launch into the water from the bank. You can also use the boat launch available at one of the public access points.
This area is great to visit year-round. However, the best time for flying fishing is from March to July, when hatches are the heaviest. Avoid this area during the hotter parts of the summer and the bitter cold of December. While you still can catch fish during these periods, you'll have the most success in the spring.
While one of the finest trout fishing areas, with above-average rainbow trout (averaging 16 inches) and brown trout (averaging 15 inches), you'll also have access to channel catfish, whitefish, and striped bass. 
In terms of camping, visitors are likely to find a great spot at a nearby campground. If you have a camper, then you'll find a nearby RV park. Make sure to pack all the gear you will need for your trip as there are no fly shops in the area. 
Honorable Mention — Bristol Bay, Alaska
What list of unforgettable fly fishing destinations and campsites would be complete without mentioning Alaska? While not in the continental US, this fly fishing destination needs to be on every angler's bucket list. 
In this area, you'll encounter large rainbow trout, Arctic grayling, and all the Pacific salmon you can dream of. Besides the fish, you might catch a glimpse of some Alaskan wildlife and see a brown bear, moose, or caribou along the shoreline. Be prepared for wildlife while you fly fish.
In terms of camping, you can stay at one of the lodges or developed campsites in the area with RV camping available as well. Or, if you're feeling adventurous, there are backcountry campsites for you to explore.