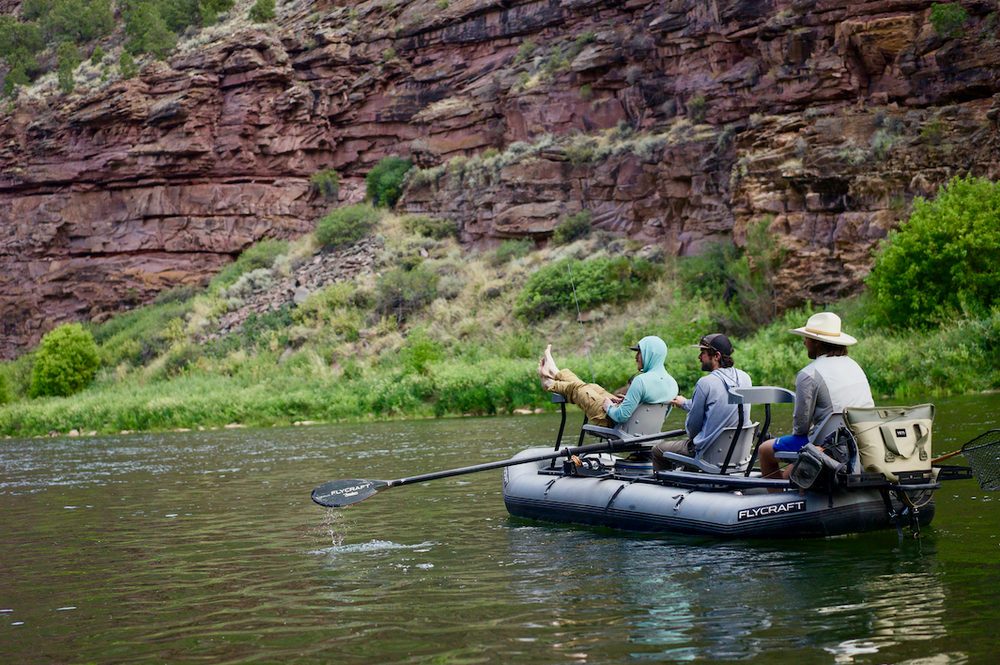 With a Flycraft vessel, you can fish just about anywhere. The Flycraft boat is an inflatable boat, which offers a lightweight design, compact size, and is easily portable—you can even bring your boat with you on vacation. Whether you choose to leave the vessel assembled and attached to a car top or disassemble and pack it for a trip, the choice is yours.
We love seeing photos our customers share on social media to show us how they're transporting their Flycraft boats. Our customers prove that Flycraft boats make it possible to travel with their boat and fish in some incredible areas across the country and beyond!
photo cred: @defconbrix
As you'll learn below, there are plenty of ways to travel with your Flycraft boat, no matter the transportation you're using!
Pack It In Your Car or SUV
Flycraft boats are built with lightweight and compact sizes in mind. Since it is an inflatable fishing boat, you can easily disassemble it by draining out the air and taking off the frame and the outboard motor (if you have one). Packing up the paddles and accessories is easy. You can then store these items in two travel bags, making it all too easy to bring with you on your next road trip. 
If you drive a minivan or SUV, the boat can easily be stored in the trunk or third-row seating. Another option is to store the bags in a hard-shelled cargo container mounted to the roof or trailer hitch of the vehicle.
What about if you drive something smaller like a 4-door sedan or coupe?
Not to worry, it's easy to travel with a Flycraft inflatable watercraft, even in vehicles this size. If you take a quick look through our Facebook and Instagram pages, you'll see plenty of avid Flycraft owners packing their boats in Toyota Corollas, Honda Civics, and many more compact-sized vehicles!
Depending on the size of your car, you can even attach your Flycraft boat to a roof rack. Of course, this is an option for minivans and SUVs as well. Rest assured, most vehicles will allow you to bring your Flycraft with you on your next fishing trip.
Mount It To Your Truck
If you drive something bigger like a Ford F150 or Chevy Silverado, you have even more options for traveling with your inflatable watercraft. If you want to keep your Flycraft boat packed away for travel, toss the bags in your truck bed and get ready to hit the road. If you want to leave the boat assembled, though, you can strap it down to the bed of your truck as well.
Flycraft 2 man stealth boats can easily fit assembled in the bed of an F150 and similar sized pickup trucks. Since the Flycraft boat is inflatable, you can quickly deflate it for more room. Fit it in your truck bed and still have extra room to spare! 
If you drive a lighter pickup like a Dodge Dakota or Ford Ranger, you may want to consider mounting assembled boats to a car topper or bed rack for transport. The same goes for Flycraft's Stealth X model. Depending on the size of your truck bed and the other gear you need to bring, mounting assembled boats can help you save space and you won't have to assemble the boat once at the water.
Tow It Behind You
Flycraft boats were built to avoid the problem that many boaters deal with—the need for a trailer. Compared to traveling with a fishing kayak, banana boat, or dinghy, know that you don't have to worry about attaching a trailer and towing your Flycraft inflatable boat. Instead, you can deflate it and pack it into your vehicle.
There's no need to tow your Flycraft boat on a trailer. But, if you want more space and you have the means to haul, you can if you want to. 
Some customers will transport their boat fully assembled and attached to their trailer. This can help you save space inside your vehicle and let you bring more friends with you on your fishing trip. It also makes loading and unloading at the river a breeze. 
Mounting it to a trailer isn't your only towing option. If you're planning to bring your RV and camp out, your Flycraft boat can easily be stored assembled or packed inside or on top of the RV for transport.
Bring It On An Airplane
We know driving isn't the only way to reach your vacation destination. If your destination is farther away and you want to fly somewhere, no problem. Weighing only 98 pounds, it's easy to pack your Flycraft boat for the airport. 
You'll likely need to pay for oversized luggage, but that is a small price to pay to bring your boat with you on vacation. You'll even have room to pack your inflatable boat sealant, life jacket, paddle, and other boating accessories.
Rather than paying to rent one, you can save on costs and bring it in your luggage. Better yet, you'll be able to explore untouched American destinations and rare international finishing spots and catch more fish!
Depending on where you're visiting, you may have to travel by bush plane. If that's the case, it's easy to bring the boat on the plane and not significantly impact any weight restrictions. Once you get to your remote destination, you can easily portage the vessel to the water's edge.
Carry It By Foot
Depending on where you live, your vacation spot might be just a quick stroll through the woods away. If that's the case, it's easy to carry your Flycraft boat on foot. You and your partner can each carry it in a bag if it's broken down, or you can easily have two people carry it fully assembled. Either way, you'll be fishing in no time. 
Flycraft boats only need about 3-4 inches of water to launch and require no boat ramp, so it's easy to launch your boat from practically anywhere. All you need to do is carry it to the bank and launch it much like an inflatable raft.
Don't Forget To Pack Your Flycraft Boat!
As you can see, there are plenty of options to bring a Flycraft boat on your next fishing trip or vacation. Planes, trains, automobiles—it doesn't matter. Due to its durability and compact size, you can avoid purchasing something cheaper like a float tube or kayak. Instead, get something durable with a Flycraft design. 
Flycraft boats are designed to be easily transported and fish more areas. Unlike other fly fishing boats that need a trailer and boat launch to get your trip started, Flycraft boats can go anywhere. Take it on a lake or down a secluded river run—the choice is yours!
The Stealth 2-man weighs just 98 pounds and takes very little time to unpack and assemble. If you're looking for a larger boat, our other models are also incredibly lightweight and easy to transport. Click here to learn more about our inflatable fishing boats and find the right one for you.