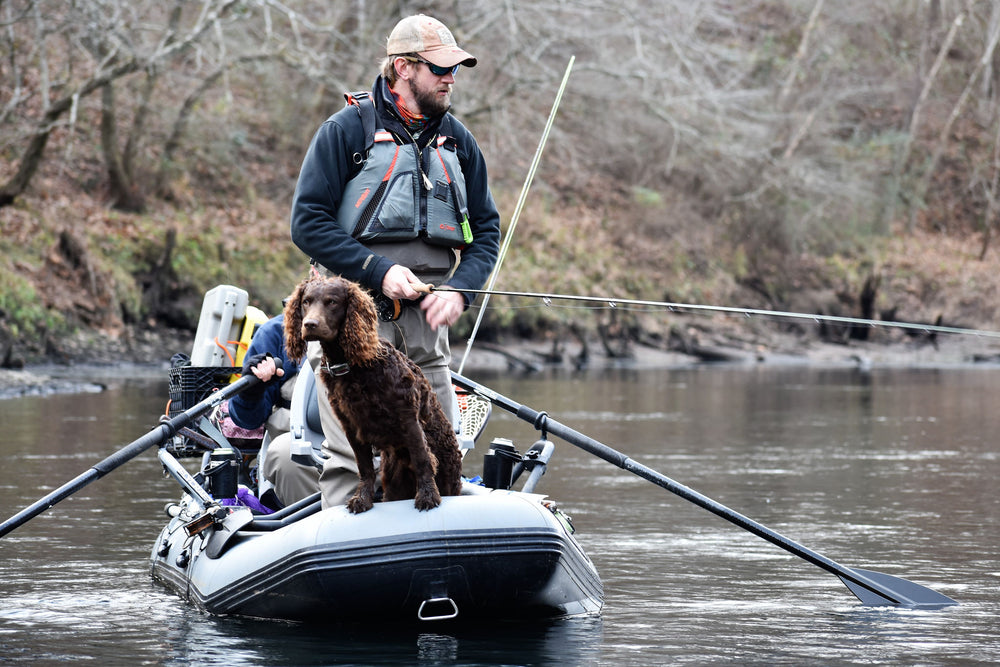 If you've ever fly fished before, then you know how glorious it is to be out there, experiencing nature and fishing with your friends or family. While walking and wading is a great experience, sometimes it doesn't get you to the remote spots, which can be where some of the best fishing experiences are. 
The truth is, fishing from a boat opens up so many new opportunities for anglers. However, if you live in an apartment or you don't have the space for heavy-duty boats, you may think boat fishing is out of the question. 
Know that there are some really great compact and inflatable boats that you can store in a driveway, small lot, and even pack up and put in your apartment compartment. Especially since fly fishing requires such a lightweight boat, you have way more options than you might realize.  
There are several different kinds of compact boats to consider, but ultimately your decision will depend on your lifestyle factors. 
To help you make an informed decision and determine the type of compact fishing boat you should purchase for your next fly fishing trip, here are a few things to consider:
Factors to Consider in Compact Boats for Fly Fishing
Choosing the right boat will come down to these factors:
Your living situation

Your budget

The type of fishing you will be doing

The areas you want to fish
Once you address these factors, choosing the right boat for your next trip is easy. 
Living Situation
If you live in an apartment, for example, then the first thing you need to consider is how you will store your boat. Do you have an extra lot for the boat or space in your apartment parking lot that's secure? If not, then you are limited to inflatables. Luckily there are high-quality inflatables to choose from. 
If you have storage space, then your options are a little more wide. You can choose an aluminum boat, a larger aluminum or inflatable, and jon boats. 
Your Budget
Purchasing a boat is actually relatively affordable. In fact, most boat owners complain more about boat maintenance than the initial purchase! However, there are additional costs that come with boat ownership that you should consider. 
For most boats, you need to factor in the cost of storage, insurance, licensing, maintenance, and purchasing a trailer: 
Storage:

You can rent a lot, or rent a slip at a local marina. For outside storage and a boat that needs to be shrink wrapped, a marina will usually charge $10-$15 per foot. If you moor year-round, then that will still cost you. Averages range from $3,000 to $15,000 annually.

Insurance:

You may need boat insurance that covers all risks associated with boating. This cost varies widely, especially because it's based on the size of the boat and motor, the location, and boat age. Allstate averages a cost of $20 a month. 

Licensing:

Every state has its own licensing requirements for fishing, so you may find that you're purchasing a fishing license (on top of parking fees, state access fees, and cabin or camping rentals). Licenses average around $25 for residents and $60-$70 for non-residents.

Maintenance:

Boat owners try to off-set the cost of maintenance by doing it themselves, so be prepared for some type of cost. Also budget for fuel, especially if you're using an outboard motor.

Trailer:

With any type of non-inflatable, you'll likely need a trailer even if it's just going to-and-from the marina. Trailers range from $2,000 to $5,000, depending on the age and size.
On top of this you should account for gear. Needing or wanting more gear might cut away from your boat operating expenses (like maintenance and storage costs) and this might force you into purchasing a more cost effective boat.
Type of Fishing You'll Be Doing
The type of fishing you want to do will determine your boat. If you want to do deep sea fishing, then you're looking at a bay boat (which aren't that compact to begin with). However, fly fishers need a lightweight fishing boat, usually one that is long, skinny, with a shallow hull. 
In terms of compact boats, you're really looking at the differences between river fishing, lake fishing, and somewhat open water fishing. Fly fishers will typically be fishing on rivers while crossing larger bodies of water. 
Fishing Location
If you expect to travel a lot for your fishing expeditions, then you probably expect to rent a boat. However, know that some heavy-duty inflatables can break down and fit into two pieces of check-in luggage. This would reduce the cost of boat rentals, or committing to length drives. 
A hard-shell boat will limit you to your surrounding area, which can also be great. 
4 Best Compact Fishing Boats
As we way the pros and cons of the following compact fishing boats, take into consideration what you want your fishing experience to be like. 
Some honorable mentions that didn't make our list were also jon boats and kick boats. 
Here are our 4 best compact fishing boats, followed by our vote for best compact fishing boat:
Traditional and inflatable fishing kayaks

Aluminum drift boats

Amazon boats or dinghies

Inflatable fishing boats
Traditional and Inflatable Fishing Kayaks
Traditional and inflatable fishing kayaks are popular for those who enjoy classic fishing or don't want to deal with a lot of boats. 
Kayaks can fish in flatwater rivers, ponds, small sloughs, reservoirs, and lakes.
Fishing kayaks are versatile and can open waters to previous land-bound anglers. You can equip it with a detachable and traditional/spin seat, paddle holders, and rod holders and can be compactly stored in a yard, garage, shed, or closet. 
There are some negatives to consider. For example, fishing kayaks don't come with a lot of gear. They also limit the angler to fishing sitting down, which can make fishing much harder and ruin your chances of catching fish, particularly for fly fishing. 
You also lack a partner, which can make it harder to navigate and position your boat. Having a dedicated oarsman in the boat means they can slow up the craft to get you a second chance at your targets and keep the boat from drifting through your runs and away from other anglers on the river.
Fishing kayaks are easy to transport; traditional and inflatable kayaks can be transported in a truck bed, rooftop or trailer. However, traditionals can take up a lot of space in an apartment or shed. 
Inflatables can be broken down for travel and storage, but they might get a puncture a lot more easily as they are often built with poor quality materials. 
Aluminum Drift Boats
Aluminum drift boats are extremely popular fishing boats because they are prevalent and sturdy. These boats are decent in fast-moving currents and can be roomy, with plenty of space for gear and fellow anglers. 
If you go with a traditional aluminum boat, then it'll feel like you're navigating in a larger boat with heavier materials. You can also consider inflatable drift boats (discussed below), which can save on space and price. 
These style boats are quintessential fly fishing boats. The craftsmanship and design can be real works of art. Lots of full time guides love them for the additional room and space they offer their clients, but there are some downsides to these beauties. 
Unfortunately, drift boats can be pricey, and the cost of trailer and storage will definitely need to be tacked on. A smaller, eight year old used drift boat might still cost around $8,000. The cost, storage, and transportation issues of these drift boats can be off-putting.
While these boats are great for drifting down the river, they aren't great at shallow depths. They need at least a foot or so, which might limit the areas this boat can go. They are also not designed for choppy waves that could have them pinballing off rocks (resulting in an expensive and time consuming professional repair job). While you can attach a trolling motor, it's best to avoid using these boats in lakes or oceans. They can be difficult to get in and out of water with their higher sides. You'll likely need a ramp to launch them. This can make it difficult to use them in some rivers if access to the water is limited.
If you have all sorts of money and want an iconic boat this is going to be your go to. Just be aware of the above limitations and nagging fear in the back of your mind about damaging them. Grown men have cried over damages down to their floating baby. 
Amazon Boats or Dinghy
A quick search on Amazon and you can find plenty of affordable and compact fishing boats. In most cases, these are going to be a small inflatable raft or dinghy. People purchase these boats because they're easy to transport and can be launched from almost anywhere. A small dinghy can be an ideal family boat if you want to go fishing with the kids.
While this option may be affordable and portable, it often doesn't last too long. In many cases, the price you pay for these is reflected in the materials they're built with. These types of boats are often made from very cheap and weak materials. 
If you find yourself in shallow water, catch a stump, or pierce the side with one of your flies—expect a hole in the boat and for it to start deflating. While this option is okay for recreational use floating on the lake, it doesn't hold up too well for seasoned anglers who need a more durable and long-lasting boat.
You get what you pay for is ever present in these style boats.
Inflatable Drift Boats
One of the most durable, compact boats you can go with is an inflatable drift boat. While some, like those purchased on Amazon, are cheap, professional crafts are built with inflatable fabric PVC and Hypalon, which are extremely durable while also being lightweight.
Like drift boats, our inflatable fishing boat can navigate shallow river beds and whitewater. 
Professional inflatable drifters are built with extra layers of protection so the material can touch gravel without causing damage. This gives you the benefits of the inflatable boat design plus the convenience of an inflatable. 
The design and durability allow you to launch the boat from practically anywhere. Its shallow draft and narrow design make it possible to get through tight spots and shallow parts of the river. 
In addition to durability, they also are even easier to transport than a car top or kayak. Certain models can be broken down to fit into two checked bags and taken on an airplane. Therefore, you can even take a reliable and rugged drift boat with you to remote fishing trips. Break it down and store it in an apartment closet, or when traveling to local fishing spots. You can always leave the boat and mount it to the roof of your vehicle like a car top boat.
Cost is usually great, as well. You may pay less for a high-quality inflatable drift boat than you would a used aluminum one. You also won't have to waste money on cheap inflatables that keep breaking (or worst - ruin a fishing trip)and you can save from having to purchase storage and a trailer.
Explore More, Fish More
Fly fishing from a compact boat makes your experience so much more enjoyable. By making a small investment in your equipment and purchasing a boat, you'll be able to explore more areas and find new hidden spots to fish with your buddies.
Choosing the best boat for your fly fishing trip takes a lot of consideration. Once you factor in what you need and what you can do, then making the choice should be simple. 
We truly believe that one of our boats will get you to more remote fly fishing spots, and offer a number of other benefits, such as low cost, high durability, lightweight transport, and the ability to break down into something even more compact.
We also offer a three-year warranty on manufacturer's defects in material and workmanship and a seven day return policy, no questions asked minus a 10% restocking fee. 
See for yourself how a truly versatile boat makes all the difference.