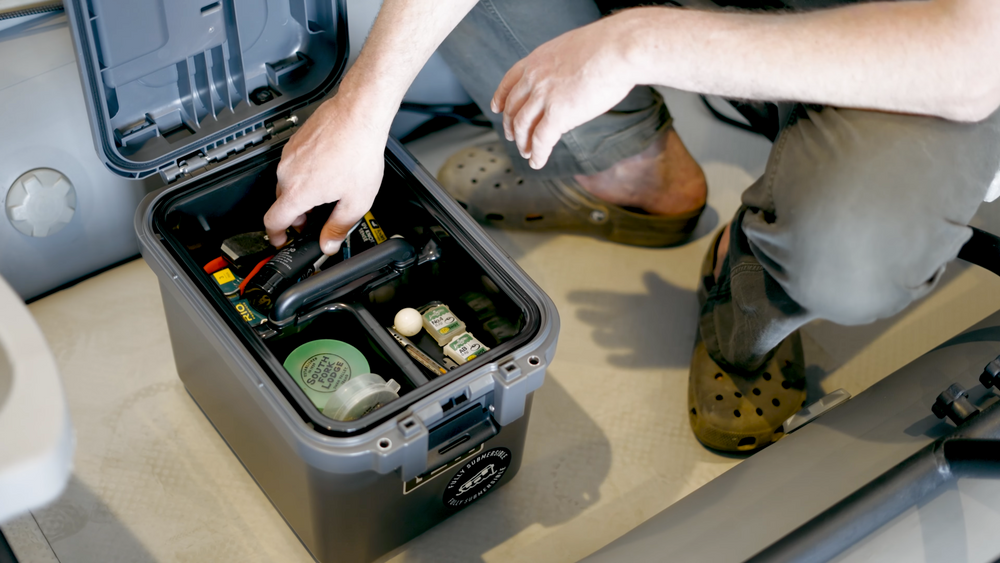 Take a look at the brand new Yeti Loadout GoBox size 15. This is the latest GoBox from Yeti and a perfect pairing for any of the fly fishing boats in our lineup. In this video we unpack the essentials that we carry with us on every float trip.
Check it out:
Transcript:
Hey Brandon here with Flycraft. I want to show off a new product from Yeti.
So the last few years they've had their Loadout® GoBox and they had it in their size 30. They just put it out in a smaller size, the 15.
So we pick some up and we've been testing 'em out the last few weeks and actually, for about the next week or while inventory lasts, we're giving one away for with each boat, plus $100 Off.
And we're all obsessed with 'em.
We've been testing 'em out hard this spring. You'll see here it can fit under the seat of this is the Stealth 2.0. It fits under the seat of all of our boats. It also goes on the gear rack. And the reason we're given these away, we think they're just a perfect pairing with our boat.
It's what we like to use. These things are bombproof. I was using one as a bench at a campsite. I stood on one recently. They're completely watertight, so if you drop them, drop 'em in the river, it rains, anything like that, stuff will not get wet in here.
Super easy to use latch and lighter weight than the other size. I still like the bigger size, but this is the one I've been using more lately. They added a handle to it, which the other one doesn't, which makes it really easy to hand it to someone in the front, move it around, spot to spot.
It'll fit behind the seat and on the gear rack. So yeah, it's real nice, handy, easy to use, easy latch that opens. And in a second here we'll show you what we like to keep inside.
(01:30)
Alright, so let's take a look inside. Now granted, I've only had this for a few weeks, so I'm sure as my fishing season goes on, this is gonna evolve to some different things. But I'm really impressed that I so far can take everything that I've needed for a day on the water in this.
And it's such a nice lightweight, compact size. So the lid unlatches super easy.
First thing you have here is a removable gear tray. And I'll show you what's under the gear tray in a moment here. But this gear tray, which has this nice pop-up handle, it's got three main compartments, two small, one large.
So in it, I keep things like this big one, I'll have my cell phone in here and like a cell phone charger. I got sunscreen. I always have that with me. Tools like nippers forceps, you know, there's floating in here,  liters. You got my fly cups here cuz I can be kind of disorganized with flies sometimes. Always gotta carry a thermometer with you to monitor water temps, especially in summer. And you know, there's some other things in here like spare set of nippers, split shot strike indicators. Now getting inside here, there's a good amount of room for really whatever you need to take. So obviously
I have an assortment of fly boxes and there's room for plenty more fly boxes in here. This time of year I've been good to go with a couple fly cups and these three, I also always carry spare sunglasses. You never know if you're gonna break or lose some or if your buddy forgets theirs. So I always have spare sunglasses, packable, raincoat, even if the weather says it's gonna be nice, I always have this. It'll help you on a chilly day, a random storm headlight. I am cursed with staying on the water later than I plan fishing and not moving along and I end up floating in the dark a lot. So this saves the day. Got some boat tools, valve wrench and repair kit, you know, just in case I keep a leash for my dog, she's usually off leash, but you never know if there's a wild animal around or something like that, that you need to put 'em on a leash.
(04:16)
And then I always like to keep a pretty extensive first aid kit. You never know if someone's gonna have an allergic reaction, get cut, punctured, something like that and then some aqua seal in case you ever get a waiter leak or bow leak. So,  that's what's in it right now for April, here in Utah. And it's pretty much gonna mostly stay like this. I'm guessing I swap out a few different fly boxes.
So thanks for checking this out with us. Like I said, we are really excited about this and that's why we are gonna give them away for the next week here.
Even if you don't get in on the giveaway, I'd highly recommend anyone getting these for use for your boats or for really anything. I have friends that keep their camera equipment in this guns, ammo, that type of thing.
And obviously with any Yeti product you know that it's pretty much bombproof and they stand behind their products. So check out the Yeti Loadout® GoBox 15.