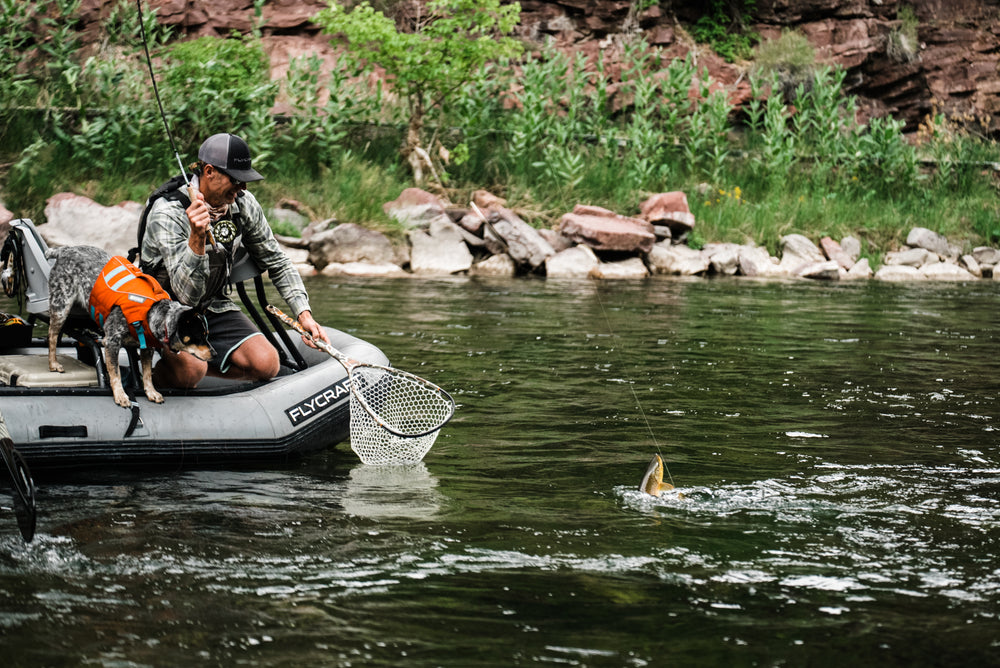 This July we were lucky enough to have one of our favorite anglers in town, George Daniel. Unprecedented low waters in the west made our choice of where to fish an easy decision, Utah's Green River.
Although running at half the flow we normally see it that time of year, the water was cold and easily navigable in the Flycraft Stealth X.
Check it out:
To be honest, we were expecting great dry fly fishing. We had heard that the hatches were in full force and the terrestrial bite was on.
As we all know, these conditions can change in a hurry and meeting George at our campsite in a full force rain storm made us wonder what was in store for the next day.
The following morning George, our Sales Manager, Brandon Collett, and Pasta the Fisher Dog, put in below the Flaming Gorge Dam on the Green River with optimism.
Ominous strong winds and overcast skies made us doubt the dry fly game but we still tried it for hours. The fact of the matter is, we were there to catch fish and a change of pressure/weather or technique wasn't going to keep us from it.
Fortunately, George may be the best nympher out there (or at least one of the best we've seen). After trying some more traditional methods we were happy to see George switch tactics and do what he is known for: Euro Nymphing.
It was our first time seeing this technique out of the boat and we were blown away. After a tough first few hours, it was like a light switch was flipped, in no time George was bringing in trout after trout.
We definitely learned a lot from watching and hope you will too.
If you would like to learn more about this technique or George Daniel, check out his website or his books below.
For those who may not know who George, he has rightfully made a name for himself more than probably anyone else in the fly fishing industry. With his roots in guiding in Western Pennsylvania, George has gone on to write two of the best selling books in fly fishing: Dynamic Nymphing and Strip Set.
In addition to his guiding and writing, George travels the country giving lectures and clinics on his passion. A couple years ago, he also joined on with Penn State University as the Professor of Fly Fishing.
Years ago, George joined on with us as one of our Flycraft Pro Anglers. For the smaller streams and some larger rivers in PA, our boats, including his new favorite, the Stealth X, seem to be the ticket.
George's annual summer trip to the West is one of our favorite times of the year when we get to row him down the river, watch him fish and spend time with someone who has become a good friend and addition to the Flycraft family.
George Daniel | www.livinonthefly.com