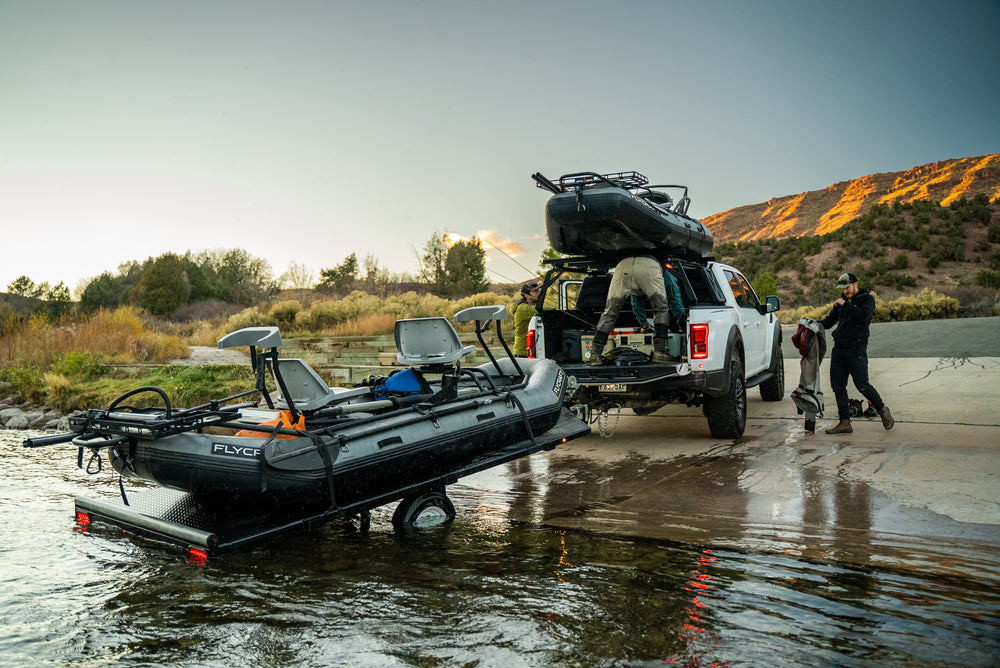 We took the Flycraft Stealth 2.0 down the famous Green River in Utah. Fly fishing in the beautiful colored water and under the tall red rock cliffs. We hunt for brown trout and hook into some amazing rainbow trout. This river is famous for a reason. 
Check it out:
Transcript
Brandon: Sometimes you try and do some filming, but the guy in the front of the boat gets his line all tangled up. So we gotta wait a little bit until we look a little bit cooler...
(01:34)
So yeah, we're here on the Green River sometime in late October.
It's a wonderful time of year to be here because we're one of maybe five boats total on the water today.
This is the newest boat in the Flycraft line, the Stealth 2.0. It's just like a classic two man Stealth, but five inches wider.
And if you notice here, we have this nice front lean bar that you can raise and lower as you're netting a fish or getting in and out of the boat on the right side. It's something a lot of people have been asking for over the years.
Another nice thing about this boat is it's a self bailer. Here on the Green River, we're running a lot of rapids. We've taken on a lot of water. But instead of having to use the bilge pump, the water is just raining out on its own.
You still have the same lightweight and maneuverability that you're used to with the classic Stealth and the same shallow water draft, which will come in handy in a moment here. It's really the best of both worlds.
(04:09)
Um, so fish are being a little picky on adult blue wings, which is, I mean they're eating adults and emergers, but the adults are easy to see. So we have kind of like a classic Adams, mayfly pattern pattern in blue wing size and color.
I might have just put too much kink on it, see if I can wipe that off. Then I have one of my favorite flies, which is called a mayhem, which normally I'll fish as a nymph, but you can gink it up and fish it as a dry too. And we just put the mayhem on. I mean, we've caught a couple on like comparaduns and stuff, but we just put a may fly on or the mayhem and things turned on. They're definitely liking the emergers, refusing 'em less. So, we just had one kind of blow up our rig because we are fish 6x and when you catch a nice fish they can do that. So we just retied and I think Brad's probably only about a minute out from catching another big one.
(05:53)
Sometimes, when you just need to take a quick break, clean off your sunglasses, take a drink of a beverage, that type of thing, you never wanna leave your oars down in the water because they can catch bottom. It can be a real dangerous thing. So you'll notice I don't need to stash my oars in a way that's gonna be hard to get 'em back out. I just put 'em under my legs. It's a nice, safe way for me to do whatever I need to do. And then once I'm ready, I grab the oars and keep rolling.