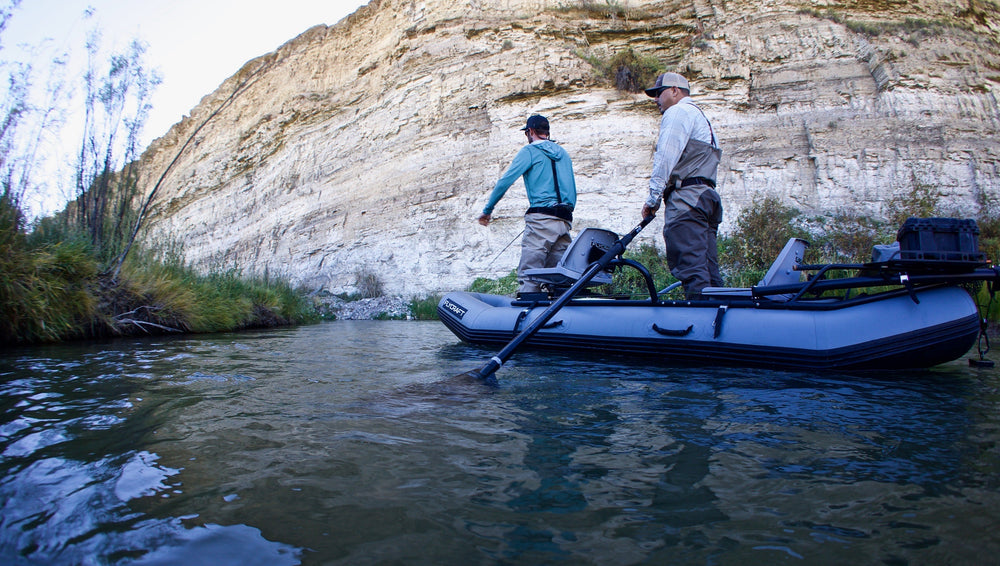 Watch the video below for 3 easy tips for rowing a Flycraft Stealth inflatable drift boat...
3 Tips For Rowing a Flycraft Stealth Inflatable Drift Boat (with or without someone fishing from it):
1) You'll always want to have the bow of the boat pointed slightly downstream. In the event that you quickly come up on a rock or obstruction, you'll be positioned to back row around it, slow yourself down, or go over it bow first (versus hitting something side first, which can tip the boat).
Basically, you'll often want to be back rowing away from things.
If you see obstacles ahead, you'll want to point at it and back row away from it.
2) You normally want to keep the boat around a 45 degree angle. It'll help with controlling the boat and if you have someone fishing from the boat, keeping it at a 45 degree angle will help them have more control casting.
3) Be comfortable with keeping your oars in the water. Feather them around. And you'll want to be back rowing often, especially if you have someone fishing from the boat. You'll help slow the boat down so the person fishing will have more casting opportunities and longer float times for their line.
To learn more about the Flycraft Stealth Inflatable Drift Boat, CLICK HERE >>