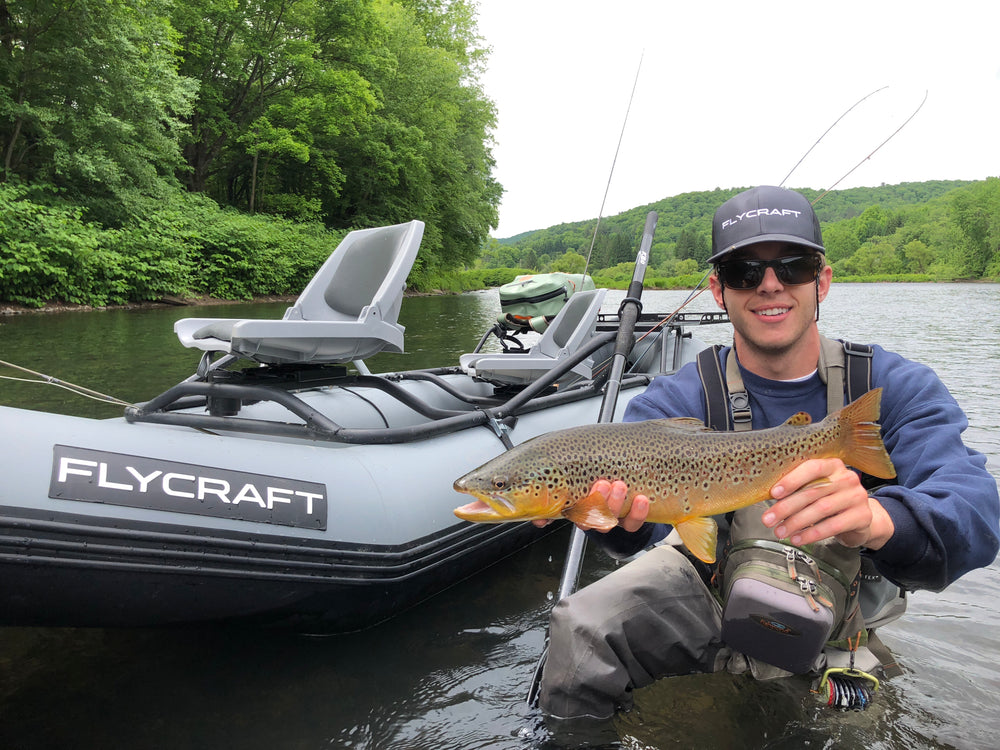 The Full Tour of The Flycraft Stealth
 Video Transcript:
The Flycraft Stealth, known as the most versatile boat in the world, gives you multiple boats in one. 
It's a perfect 2 man boat with room for a kid or dog.
And also serves as an amazing single man craft.
It replaces a drift boat, canoe, kayak, pontoon, and many smaller power boats...
 ...Giving you incredible versatility for creating your most memorable adventures.
The Flycraft Stealth is incredibly packable. It'll fit in the trunk of a car, bed of a truck, on a trailer, in an rv compartment, on a plane, top of a car, and you can break it down and pack it into remote areas.  
You can even store it in your closet.
And can be assembled it in as little as 10 minutes.
The Stealth is an unique size that give you multiple advantages.
It's shallow draft of 2-3 inches can get you into some incredibly skinny water, giving you access to unlimited pristine fishing spots.
Add in the ability to launch just about anywhere, given it's only 98 pounds, and you now have access to literally thousands of new, small or large streams, rivers, and lakes.
It can easily be carried to new launch sites, over obstacles or difficult portatages.
The Stealth eliminates the hassles of boat ramps, towing a trailer, and still gives you all the comfort and stability of a drift boat.
You can stand up and fish in your Stealth, like in a drift boat.
With its rock-hard bottom, that's made of a high pressure pvc, you'll be amazed at the stability of the floor while standing and casting.
Our reverse lean bar technology also gives you solid stability and many different advantages over a traditional front lean bar.
Instead of leaning forward you lean backwards. You also put your feet on the inside of the tubes locking yourself into position. This frees up a ton of space, increasing your rod's range, which means you land more fish.
You also have nothing blocking your casting range while seated, giving you more advanced casting & hook setting possibilities.
Flycraft founder, Ben Scribner, has this to say...
"An incredible amount of research and testing went it designing the Stealth.  It has continued to amaze me with the performance, ruggedness, and incredible versatility.  This boat has opened up so much new water to me, I feel like it's turned me into a fishing billionaire. I have so many secret floats. I almost never see anyone anymore when I fish....and to me that's a beautiful thing."
Flycraft calls it the Stealth for a reason. You can now quietly sneak up on fish... undetected...utilizing the shallow water draft and low profile tubes.
It also turns on a dime. The maneuverability and tracking of this boat can turn you into a fishing ninja, giving you the opportunity to explore new waters. At 98 pounds and 12.5 feet long, 46" wide, it's been called the sports car of fishing boats. It's perfect for seasoned or new rowers. 
Another feature anglers love is the 360 Degree Swivels Seats. This makes getting in and out of the boat super easy. You can also swivel on either side of the boat when you have a fish on the line, making it far easier to land big fish. And the padded seats provide maximum comfort for long days on the river.
 This boat was built to last .. The extremely durable 1 millimeter thick interwoven nylon PVC and ton of extra armor in strategic areas, gives the Flycraft Stealth superior durability. So go ahead and bring your dog. 
The Stealth's revolutionary anchor system makes a 20 lb anchor feel like 10. And it centers you perfectly downstream, so you quietly post up on all those productive runs.
Our rod holder works wonders at decluttering the boat. Both people can easily access and change out rods while providing peace of mind knowing your rods are secure.
Adding a motor completely transforms this boat, and opens up new fishing possibilities and greatly increases your range.  Now you can target your favorite species for a fraction of the cost of other power boats while not having to deal with towing a trailer.
The versatility of this boat is truly amazing. It can function as just about any type of boat, to match whatever waters are coming your way.  There's multiple ways you can break down the Stealth, giving you many super convenient transporting and storage options. 
Flycraft is backed by some of the top pros in the industry, including George Daniel, Lance Egan, Doug McNight, Rich Strolis, Alex Lafkes and Landon Mayer.  Here's some quotes from our pros:
"The Flycraft Stealth has changed the way I fish Colorado lakes."
"It has become my single favorite piece of gear, hands down."
"I am excited about all the fishing options it opened up that I couldn't do with a drift boat or raft."
"The maneuverability and size of the Flycraft not only allows you to float the small streams but fish them effectively."
"It's opened up opportunities to guide that never existed prior."
If the Stealth is the boat of your dreams ... you'll want to buy yours now. Due to its popularity, it's sold out multiple times.
Just select your package now ...