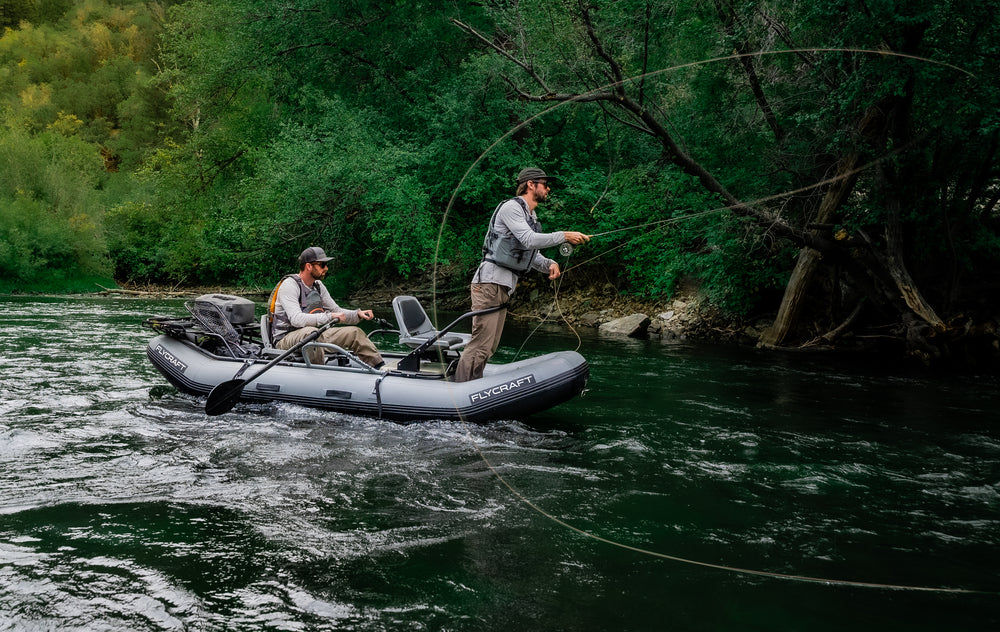 The new Flycraft lean bar for the the Stealth 2.0 has been a big hit with Flycraft owners. So I thought I'd take a minute to explain why it's such a game changer for fishing from a Stealth.
Just watch the video below:
 Video Transcript:
Hey, this is Brandon with Flycraft and I just wanted to give you a little bit more info on the new front lean bar for our original Stealth and Stealth 2.0 models.
This works for the front seat of our boat, kind of like a classic drift boat style design. What's really nice about it is that there's a pin mechanism, so you can easily raise and lower this. It goes down. The pin is on a tether, so you don't need to worry about losing it and has a little push button. The main times I do this is when I'm netting a fish or if I'm getting in and out of the boat on this side, it's nice to lay it flat. But yeah, sometimes on occasion, I might drop it flat for when I want to fish. Just pull it back up and stick the pin in and it's as easy as that.
So like I said, this is available for both the original Stealth and the Stealth 2.0 models. It can also be added after the fact. So if you buy the Stealth 2.0 Pro Package, it actually comes standard with this. If you buy the Fish Package, it doesn't, but you can always use the classic reverse lean bar system, or add the lean bar down the road. And yes, it does work with your existing Stealth frames as well and we have assembly videos, which is pretty basic on how to do that.
We're really excited about this. It's a very clean design, basically just like the rest of our boat. We designed it with line management in mind. We don't have cup holders attached to it, to tangle on things like that. We attach our cup holders, other places where they're out of the way and it works really well for both standing and facing forward, but just like in a drift boat or the ones that you see on our Stealth X or Guides that have the molded locks, these are also bent to support your leg, if you're turned one way versus the other.
The added stability that you'll gain from these lean bars is really helpful while fishing and these maneuverable boats that we have, we're constantly navigating through boulder gardens. When someone is rowing and you're getting thrown off balance from side to side, being able to stand facing forward or sideways, is super helpful, especially when you're trying to hit moving targets as you're going down the bank, throwing drive fly streamers, that type of thing.
We think you're really going to enjoy this and if you haven't already check out some of the other videos on our YouTube channel, where this is in action. Thanks.