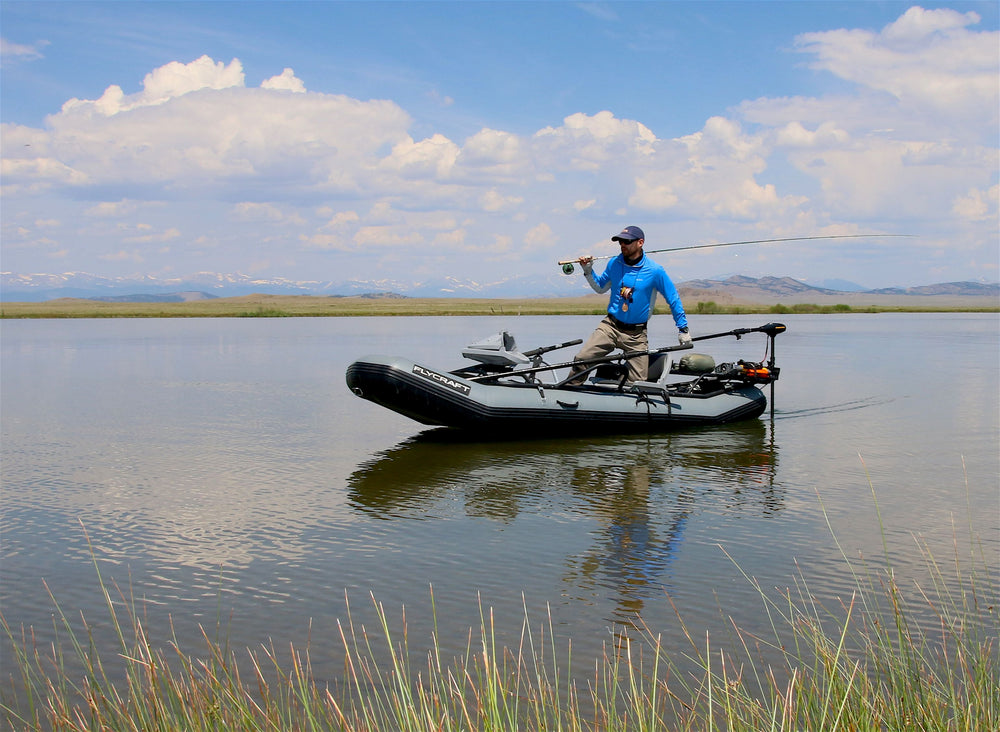 Still waters can provide opportunities to catch some of the largest trout in the world.
One of the challenges many anglers face is how intimidating such a large body of water can be. What I've learned over the years is that a majority of large trout find a bulk of their diet near drop lines, vegetation, or rocky shorelines. This is why my Flycraft has become a very important tool in day to day trips giving me the ability to creep in without being detected in shallow zones.
The following tips have been very useful angling from my Flycraft or the areas I can now access by foot due to its versatility:
Intercepting the banks like a pool player visualizing the Q ball shot, intercepting cruising fish is a must learn skill all anglers should experience.
Having the right "angles" is the best way to intercept the target. I first learned this technique in 2003 on a 7 day trip tarpon fishing in Homasassa and Boca Grande, Florida. Watching large migratory tarpon cruise on turtle grass flats, beaches, and harbors you had seconds to line up the shot, load with one or a few false casts, and pull the trigger.
Delivering the fly far ahead of silver kings in order line up the fishes feeding line. While it was frustrating at the beginning, by the end of the week I was hooked. Not to mention the mind racing ideas on the flight back on how I could apply these techniques back home for quality trout. This same intercepting set up from my Flycraft now brings the exciting sight fishing game from my days in the salt to my still waters back home.
First you need to see the path of the trout, what direction it is moving, and if there is a pattern to how it feeds. It is common for these fish to stick to the same routine swimming the same route over and over.
Then determine if the fish is looking for food on the surface, below, or both. If it is only on the surface then it is simple, if the fish is a subsurface feeder then you want to visualize the depth you think the trout is feeding at. It does not have to be spot on at first, you are better off thinking short as the natural movement for a trout to feed is to lift.
Once you have located the highway and speed of the fish it is time to visualize your plan by making an imaginary dotted line in front of the trout to a spot where you think the fish will eventually be. I prefer 10 feet or so. This will give you time to manage line with just a dry, and allowing sinking time for a dropper. It is difficult to land the fly directly in front of the cruising target, especially at longer casting ranges.
To ensure the imitation will be seen I prefer to overshoot. This will give me breathing room to move the fly into position to intercept the trout and its viewing lane. In some situations the extra distance will not make a difference with fish heavy on the feed.
After you land the fly the next decision is how to move the bug into position. There are so many ways this could be done from skating, twitching, or popping. I for one am a fan of skating the dry to mimic the moments of a natural caddis as it is less startling. This technique can be accomplished very easily by simply applying a large mend to the fly line. Matched with a size #14-16 Fat Albert, you are know ready for action. 
Lastly, the most important part about moving a fly is not always the act; it is the pause in between. This lets the trout know the food source is not going to escape or that it is injured.

Color for Depth
Drop-offs or shelves are some of the best locations on still waters to find fish. These color changes indicate crucial depths that trout tend to prowl in the spring, summer, and fall. If possible try to find a high ground viewing area to scout the shoreline before you launch your Fly Craft or travel by foot, as it can be harder to see the exact drop when you are standing on the edge or in the water. In the early season when the ice just starts to thaw, or heat up on the edges you may see three color changes going toward shore: white ice, green or blue deep water, then shoreline colors that are typically brown, tan, or red.
All these transitions are logical ambush points for predators like trout because they provide safety and a steady food supply. In the spring as the shallow edge water warms up, the first birth of midges are prolific a few feet from shore. Always look before you wade, especially during the first two weeks after ice out, as trout hug the bank to take advantage of the warm water and food. This is when you will have to remind yourself that this is fresh water sight fishing not the salt.
Once you locate these drop-offs that follow the lake contours, try to find a structural points that intersect these travel lanes. The tip of a point of land, or the mouth of a bay puts you closer to the trout as it forces them to funnel around you. In rocky terrain, these points can sometimes save the day during heavy wind. Use them to find shelter from the wind for easier casting and better sight fishing.
When fish are more exposed in shallow water, any extra cover they can find is attractive. My favorite spots along a known shorelines are usually isolated large rocks, or rocky points. Trout cruise below, around, and through the rocks using shade, the structure itself, and extra surface disturbance to remain undetected. This is where I locate some of the largest trout of my year.

The Window
Movement is the first thing you will see from a trout in still water because unlike rivers these trout are in constant motion when they feed. Shadows, silhouettes, and color are the best give away that a trout is on the hunt. Be sure to look closely at structure points and the light side of a color change, or drop lines. The often dark, or light colored shape of a trout will contrast against the color of the structure and shallow bank bottom.
Another effective strategy is to view these windows from a high perch or vantage point. Even if you are fishing by yourself it will let you know how close to the edge the fish is cruising, how deep the target is, and what direction it is swimming. Then you will know if your rig is in the path of the trout when it swims by to prevent missing chances for the fish to see your flies. 

Written by Fly Fishing Pro Landon Mayer
ABOUT LANDON MAYER
Landon Mayer, a fly-fishing instructor, long-time guide in the Florissant, CO area, and author, has made his mark in the fly fishing world with his obsession and expertise pursuing large trout with small flies and lightweight fly-fishing gear.
Mayer's passionate about sharing his techniques and tricks of the sport with other fly fishing enthusiasts via guiding, teaching classes, writing for Fly Fisherman and High Country Angler magazines, and through his books 101 Trout Tips: A Guide's Secrets, Tactics and Techniques (new for 2015), Colorado's Best Fly Fishing, Sight Fishing for Trout, and How to Catch the Biggest Trout of Your Life, in addition to two DVDs:  Landing the Trout of Your Life and Weapons of Bass Production.
Mayer also raves about the ease of throwing the Stealth into the back of his truck, and heading out to fish, no problem. A trailer is not needed with the Flycraft Stealth small fishing boat, which is a plus for fishing pros and all fishermen alike.
"It's also a huge advantage to be able to stay low and stealthy to sneak up on rising fish, but then be able to stand up once in position to fight that fish for make that longer cast to a fish further away," says Mayer.