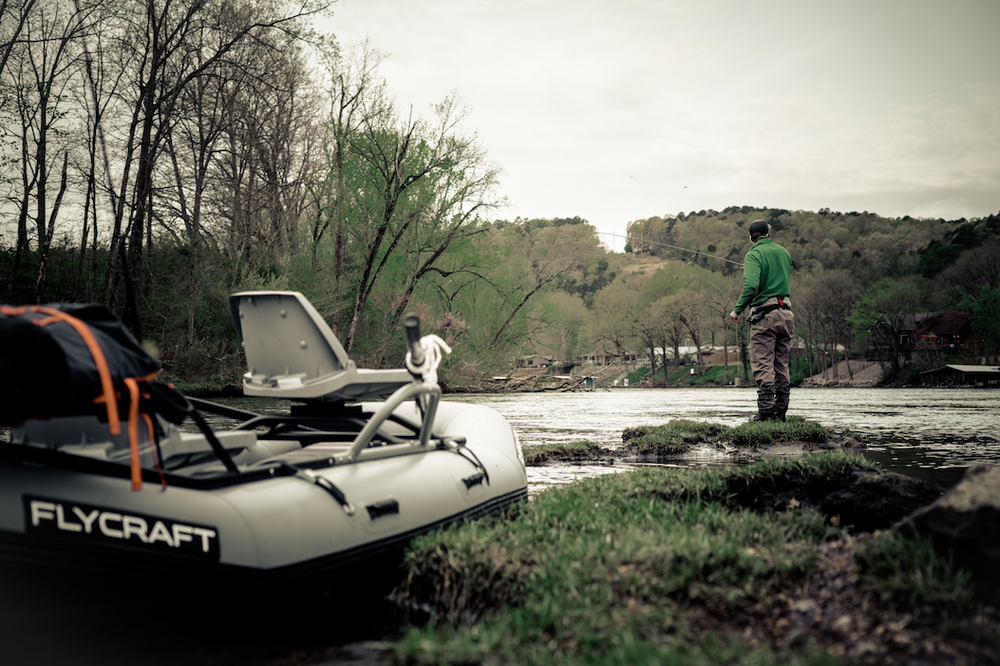 We get a lot of questions about traveling for fly fishing. To help those who want more  fishing experience or traveling for fly fishing trips, we are going to be showing you what we travel with on some of our fishing adventures throughout the year. 
In these Flycraft travel videos, we'll be going over:
How we set our boats up
What fly rods we each use
What flies we prefer on certain rivers
and everything in between on a weekly basis.
Each trip will have specific equipment for the location and species we'll be targeting, but each video will have useful information you can use for wherever you may be heading.
In this video today, I walk through what I will be bringing for a week-long trip down to Cotter Arkansas to fish the historic White River. I will go into a bit more detail below for those who like to get into the details of all the luggage and fishing gear to bring. 
You can use the info below as a rough example of a pack list for your next fishing trip. 
Now the White River and Cotter or Bull Shoals rivers aren't necessarily "hidden gems", but they don't seem to pull the same attention and traffic like iconic places out west such as Jackson Hole, the Madison River, or the Snake River. That doesn't mean there isn't great fishing. Quite the opposite is true! The White is probably one of the best places in the country to catch a monster brown trout (fly fishing legend Joe Humphries took the time to travel to the White for this exact reason).
If you're not into traveling with an inflatable drift boat or have no desire to cook meals or row yourself and buddies, the Cotter area has a fly fishing lodge or two, fly shops with any level of guided trip, and even a hosted trip every now and then with a social media influencer. So if the details below seem overwhelming, but you still want to experience chasing trout on the white, there are plenty of options for whatever type of angler you are wanting to be for the trip. That being said let's get into the details.
We'll be hitting the river with fishing guide, Jake Flood, for 4 days. The goal of this guided fly fishing trip is spending 2-3 days on the white and then maybe 1-2 days on some smaller local rivers going after rainbow trout, bass, and even some carp, if time allows. 
Jake guides out of one of our Flycraft Stealth X inflatable drift boats and has it fully tricked out with a gear rack, 3rd seat, rod holder and rear lean bar. 
After those 4 days I'll be spending some time with my family who lives in Northwest Arkansas and going out with my brother on a float trip or two. In total I'll be gone for a week.
I'll be taking a checked bag and a small backpack I use for all my air travel. Those two bags will have everything I need for this fishing adventure and they're more than enough for me. Here is how I have my fly fishing gear broken down between the two bags:
Checked Luggage: 
Redington Sonic HD Wader and Redington Prowler Boots

Rod tube with a Scott Radian 6 weight 9' rod with a Redington Rise Reel and Scientific Anglers MPX 6 weight line

Second rod tube with a Redington Cross water 8 weight 9' rod with a Ross Gunnison reel and a Rio Gold 8 weight line

Simms gloves/mittens

Sitka Kelvin Lite Vest

Arc'teryx down insulated jacket

2 pairs of quick drying pants

2 pairs of sun shirts

2 Pairs socks

Underwear

Extra pair of Smith Optics Highwater Polarized sunglasses

Fishpond Gunnison Gorge lumbar pack (stocked full with fly boxes, tippet, leaders, floatant, indicators, and weights)
Backpack: 
Arc'teryx rain jacket (this is way more travel friendly than my beefy Orvis jacket that I use when it's constantly dumping and I know I won't be taking it off)

Sage X 5 weight 8'6" rod with a Sage Spectrum fly reel and Scientific angler MPX 5 weight line

Redington Predator 7 weight 9' with an older Rise reel and a Rio Streamer line 

Toiletries

Quality book for the flight
Tip: Some people may disagree with me, but for any fly fishing that requires air travel I always split up whatever travel rods I'm bringing if I'm able to. I've lost luggage way too many times to trust throwing them all in one giant rod tube and praying they get there. This way I know I will always have multiple fishing rods with me on the trip, no matter what. 
Now for this trip I'm bringing rods from 5 weight to 8 weight so we will have all our bases covered no matter what style of fly is needed. 
Fly Rods I'll Bring:
The 5 weight is the dry fly rod (3 and 4 weight rods are great dry fly rods, but I prefer a 5 weight when fishing from a boat for a dry fly setup.). 

The 6 weight will be my utility rod to throw small streamers like wooly buggers or some of those smaller hopper patterns. 

The 7 weight will be my streamer rod set up with a sinking line to help get those flies down, especially with generation flows varying from day to day. 

Finally the 8 weight will be the nymph set up. 
This 5-8 fly rod set up is pretty standard for any fishing trip for us at the Flycraft shop.
The idea of traveling to Arkansas might not seem to have the same luxurious appeal as a saltwater expedition chasing tarpon or bonefish in Belize or the adventurous lure of Patagonia, or chasing salmon in Alaska, but it is beyond worth the trip at some point in your life. 
Even if you aren't going to try throwing 4-7" mouse patterns for 3 foot browns under the light of the moon, you can still target a plethora of species that aren't common everywhere in the country like brook and cutthroat trout. So what Arkansas may lack on paper makes up for in some of the best fishing in the country, mixed with a laid back southern feel and a beautifully forested terrain.