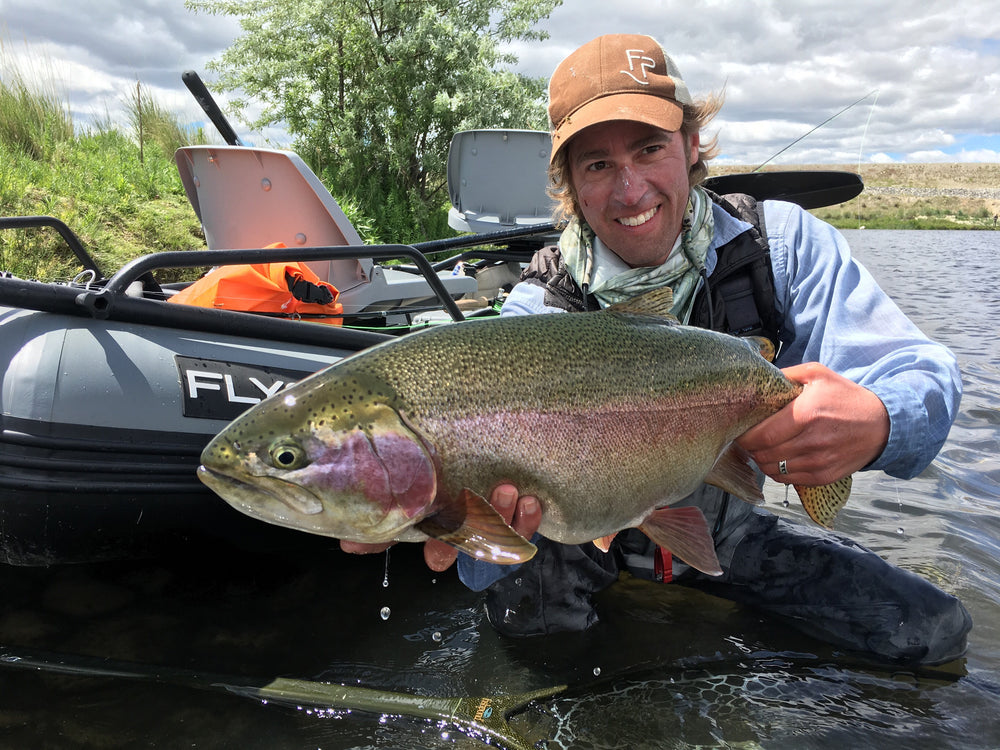 Doug McKnight gives the Flycraft inflatable fishing boat his seal of approval.
Doug McKnight, Fly Fishing Pro, is the next in a long line of existing endorsers for the all-in-one inflatable fishing boat, drift boat, and motor boat: the Flycraft Stealth.
"I saw the Flycraft Stealth a few years ago and it definitely caught my attention with its multiple potential uses for fishing," 20-year fly fishing veteran, McKnight, said of the small fishing boat. "I started wondering about all the fishing options it would open up that I couldn't do with both a drift boat or raft."
About Doug McKnight
A renowned fly fishing guide based out of Livingston, MT, McKnight leads fresh and salt water fishing trips all over the world for Yellow Dog Adventures.
Obsessed with fly fishing from the start, McKnight began the sport at nine years old and hasn't quit since. "I have been a bit of a fishing nut since I could remember," McKnight said. The spark McKnight felt as a child only grew with time. "In my late teens, I pretty much decided that I wanted to make creative fly tying a part of my living," McKnight said.
In the past two decades, McKnight has built a reputation as an expert fly tyer in nearly every facet of the craft. From trout flies, bass, saltwater, big game flies, deer hair flies, realistic flies, and Atlantic Salmon flies, McKnight is a versatile fly tyer who lets his creativity shine through. In 2003, Umpqua Feather Merchants signed him up as a signature fly tyer, and you can buy his unique fly patterns in fly shops around the world. In 2010, Fly Fisherman magazine published a streamer-tying article written by McKnight that was very well received. He continues to write for regional and national publications, and he's excited about all of the opportunities the Flycraft inflatable fishing boat offers to fisherman around the world.
McKnight experiences the Flycraft Stealth
When you pair a pro like McKnight with one of the industry's most versatile and accessible inflatable fishing boats, you're sure to have an unforgettable time. "Not only has it been amazing to fish in but I've had amazing adventures with it, but allows me to access waters other cannot in search of large trout," McKnight said. "I'm looking forward to teaching my son how row in [the Flycraft small fishing boat] because it's so easy." Flycraft is excited to have a fly fisher as respected, renowned, and talented as Doug McKnight as the newest addition to the Flycraft Pro Team. Other Flycraft Pros include George Daniel, Lance Egan, Rich Strolis, and Alex Lafkas. 
About Flycraft
Born from a desire to explore more remote and untouched waters, the Flycraft inflatable fishing boat is known around the world as the leader in versatile small fishing boats.
Built to suit the needs of fisherman seeking the pleasure of fishing in a boat while seeking more remote locations, this revolutionary new concept in small fishing boats combines the comforts of a drift boat with the accessibility of a lightweight inflatable boat—and is THE choice for both professional fisherman and amateurs alike. And because this small fishing boat is eight boats in one, replacing your drift boat, pontoon, tender, kayak, canoe, motor boat, float tube, and raft, fisherman can now easily access remote, uncrowded fishing holes this and every fishing season.